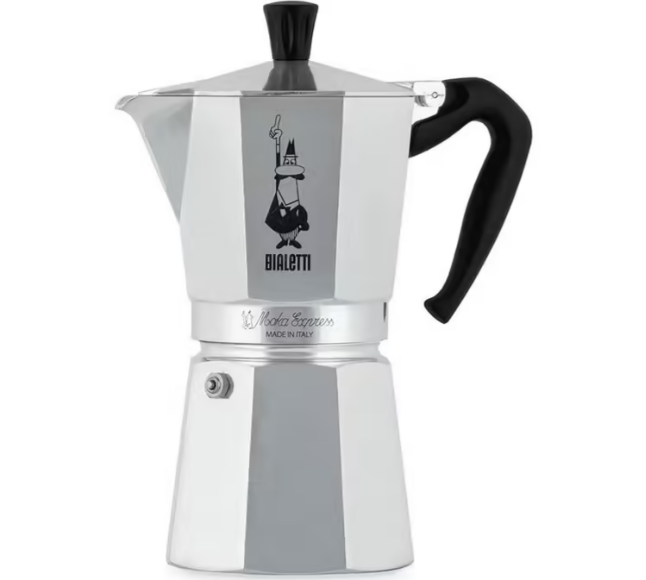 Selection of Large Bialetti Moka pot
Experience the ultimate coffee brewing with the Large Bialetti Moka Pot edition.
Elevate your mornings with rich, aromatic coffee that's steeped in tradition and Italian craftsmanship. Crafted for perfection, it brews bold and smooth coffee, indulging your senses with every sip with Bialetti Moka pot .
Welcome to the world of exceptional coffee brewing with the Large Bialetti Moka Pot ! This iconic coffee maker, born out of the genius mind of Alfonso Bialetti, has been a cherished companion for coffee enthusiasts for decades. Crafted with meticulous attention to detail, the Large Bialetti Moka Pot represents the perfect blend of tradition and innovation.
The Fame of Large Bialetti Moka Pot
The legacy of Alfonso Bialetti lives on through his groundbreaking invention - the Moka Pot. Fondly known as the "Moka Express," this coffee maker has earned its place in coffee history. Alfonso's vision was to create a coffee maker that could produce rich, aromatic coffee akin to that brewed in traditional Italian homes. With its distinctive eight-sided shape, the Large Bialetti Moka Pot ensures optimal heat distribution, resulting in a consistently satisfying cup of coffee that captures the heart and soul of Italian coffee culture.
The Perfect Size of Large Bialetti Moka Pot
Size matters, especially when it comes to brewing perfection. The Large Bialetti Moka Pot strikes an impeccable balance between capacity and convenience. Its generous top chamber provides ample space for your favourite ground coffee, allowing you to experiment with different coffee blends and flavors. Crafted from high-quality stainless steel, this coffee maker guarantees durability and longevity, ensuring you'll enjoy countless cups of exceptional coffee for years to come.
How to Use Large Bialetti Moka Pot
Brewing your favourite cup of coffee using the Large Bialetti Moka Pot is an experience worth savoring. Begin by filling the bottom chamber with fresh, cold water up to the safety valve level. Next, add finely ground coffee to the filter basket, ensuring a level surface without pressing down. Assemble the Moka Pot by attaching the top chamber and the ergonomic handle. Place it on induction hobs or any heat source, and watch as the magic unfolds. As the water heats up, it creates pressure that forces the water through the coffee grounds, resulting in a delightful, aromatic coffee stream into the upper chamber. With a user-friendly lid open design, you can easily monitor the brewing process and anticipate the moment your coffee masterpiece is ready to be enjoyed.
Indulge in the world of Large Bialetti Moka Pot options available exclusively at MaxiCoffee. Our commitment to bringing you the finest coffee-making tools is epitomized by our handpicked collection of Bialetti Moka Pots. With a proud tradition of delivering quality and authenticity, MaxiCoffee is your ultimate destination to find the perfect Large Bialetti Moka Pot to suit your style and brewing preferences.
Our Wide Range of Large Bialetti Moka Pot
At MaxiCoffee, we understand that every coffee enthusiast has their unique preferences. That's why our selection of Large Bialetti Moka Pots encompasses a diverse range of designs and finishes. From the timeless elegance of stainless steel to modern interpretations that reflect contemporary aesthetics, you're sure to find a Moka Pot that resonates with your taste. Our assortment includes variations that cater to induction hobs as well, ensuring that you can indulge in the pleasure of brewing authentic Italian coffee even in the most modern kitchens.
Advantages to Buy Large Bialetti Moka Pot on MaxiCoffee
Choosing MaxiCoffee for your Large Bialetti Moka Pot purchase comes with a host of advantages. Our commitment to quality extends beyond the products we offer. When you shop with us, you're not just acquiring a coffee maker; you're embracing an authentic coffee experience. Our user-friendly website ensures effortless navigation, making your shopping journey enjoyable and convenient. With secure transactions and prompt, reliable delivery, you can rest assured that your chosen Large Bialetti Moka Pot will reach you in pristine condition, ready to embark on countless coffee-brewing adventures.
Embrace the art of coffee-making with the Large Bialetti Moka Pot from MaxiCoffee. Elevate your coffee ritual and relish every sip of the rich, aromatic brew that only this masterpiece can deliver. With its stainless steel construction, ergonomic handle, and iconic design, the Large Bialetti Moka Pot is more than a coffee maker; it's a testament to the joy of crafting the perfect cup of coffee in the comfort of your home. Unlock new dimensions of flavour and aroma as you become a part of the timeless tradition that celebrates the marriage of Italian ingenuity and the love for a great cup of coffee.
Experience coffee perfection with the Large Bialetti Moka Pot. MaxiCoffee welcomes you to join the ranks of passionate coffee lovers who understand that every brew is a journey, and every sip is a moment to treasure.
When you own a Large Bialetti Moka Pot, you're not just brewing coffee; you're creating moments of connection. Share a cup of the finest coffee with friends and family, and let the rich aroma and taste stimulate conversations and memories. MaxiCoffee is dedicated to enhancing these moments by offering you not just a coffee maker; it's a gateway to the world of authentic coffee experiences. Discover the true potential of your coffee grounds and elevate your coffee-making skills with the Large Bialetti Moka Pot from MaxiCoffee.
With our commitment to quality, variety, and your coffee satisfaction, MaxiCoffee stands as your partner in the journey towards a perfect cup of coffee. Elevate your mornings, gatherings, and quiet moments with the exquisite taste and aroma that only a Large Bialetti Moka Pot can offer. Browse our collection, make your choice, and start brewing your own moments of joy and connection today.