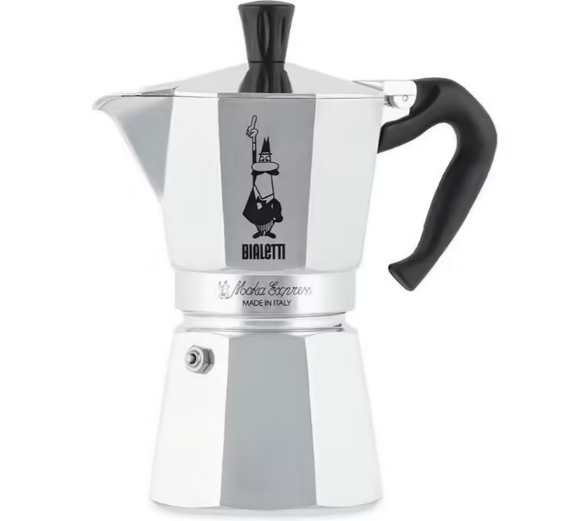 Our selection of Bialetti Moka Pots
Discover the perfect brew with the iconic Bialetti Moka Pot !
Crafted with Italian precision, this classic stovetop coffee maker brews rich, aromatic coffee in minutes. Elevate your coffee experience and relish the authentic taste of espresso, all from the comfort of your home. Embrace the tradition, enjoy the simplicity, and savour the exceptional flavour of Italian coffee. Discover our whole selection of Moka pots .
Product(s) 1 to 19 / 19 (in total)
Indulge in the world of rich Italian coffee craftsmanship with the Bialetti Moka Pot , a beloved classic that has graced kitchens and coffee enthusiasts' homes for decades. At MaxiCoffee , we're thrilled to bring you the exceptional range of Bialetti Moka Pots , meticulously designed to deliver a perfect cup of coffee every time.
What is a Bialetti Moka Pot?
The Bialetti Moka Pot , often referred to as the Italian coffee maker , is a stovetop coffee brewing marvel. It consists of three main parts: the bottom chamber for water, the upper chamber for ground coffee, and a funnel-shaped filter. As water boils in the bottom chamber, steam pressure pushes it through the coffee grounds, resulting in a robust and aromatic espresso-style brew. The most iconic model being the Bialetti Moka Express, available in a variety of sizes!
The History of Bialetti Moka Pot
Founded by Alfonso Bialetti in the early 1930s, Bialetti revolutionized home coffee brewing with his ingenious invention, the Moka Pot . With its distinctive octagonal design and the iconic "Little Man with the Moustache" logo, Bialetti Moka Pot became a symbol of Italian coffee culture worldwide, bringing the authentic taste of Italian espresso to homes across the globe.
Why Choose Bialetti Moka Pot for Coffee Brewing?
When you opt for a Bialetti Moka Pot , you're choosing quality, tradition, and taste. Crafted from high-quality stainless steel , Bialetti Moka Pots are built to last, ensuring years of impeccable brewing performance. The unique brewing process preserves the oils and flavors locked within your ground coffee, resulting in a velvety cup of coffee that's truly unmatched.
Step-by-Step Guide to Brewing Coffee with Bialetti Moka Pot
Brewing your favorite cup of coffee with a Bialetti Moka Pot is a straightforward process that guarantees extraordinary results. Here's a quick guide to get you started:
Fill the bottom chamber with fresh water up to the safety valve.
Insert the funnel and fill it with finely ground coffee, leveling it off without pressing.
Assemble the Moka Pot and place it on the stove over medium heat.
Keep the lid open and closely monitor the brewing process.
Once you hear a gurgling sound and see coffee filling the upper chamber, remove the pot from heat.
Pour your aromatic espresso into your favorite cup and enjoy.
Tips and Tricks for Perfecting Your Coffee with Bialetti Moka Pot
Mastering the art of brewing with Bialetti Moka Pot is a delightful journey. To enhance your coffee experience, consider these tips:
Use freshly ground coffee for the best flavor.
Preheat water to avoid overcooking your coffee grounds.
Experiment with grind size and coffee-to-water ratios to find your preferred strength.
Close the lid as soon as coffee starts flowing to prevent bitterness.
Cleaning and Maintaining Your Bialetti Moka Pot
Caring for your Bialetti Moka Pot ensures consistent brewing quality. After each use, disassemble the Moka Pot and rinse it with warm water. Avoid using soap to maintain the seasoned coffee oils that add to the flavor. Every few weeks, deep clean your Moka Pot by soaking its parts in a mixture of water and vinegar, then scrubbing gently with a brush.
Different Sizes and Types of Bialetti Moka Pot
Understanding the Range of Bialetti Moka Pot
When it comes to selecting the perfect Bialetti Moka Pot to accompany your coffee journey, MaxiCoffee takes pride in offering an impressively diverse selection that is sure to pique your interest. Our carefully curated assortment of Bialetti Moka Pots caters to an array of tastes, preferences, and brewing needs. Whether you're an avid solo coffee connoisseur, seeking a meditative moment with a single cup, or someone who revels in sharing the joy of coffee with friends and family, we have the ideal size and style to seamlessly fit into your routine.
Imagine the comforting aroma of freshly brewed coffee filling your kitchen as you prepare to start your day. Picture the warm camaraderie that ensues when you gather around with loved ones, each savouring their own cup of carefully crafted coffee. Our collection of Bialetti Moka Pots offers sizes ranging from charmingly intimate single-cup options to generous multi-cup companions, ensuring that no matter the occasion or company, you have the perfect vessel to brew and share the magic of coffee.
Indulge your senses and explore our range to uncover the Bialetti Moka Pot that speaks to your individuality. Discover a variety of materials, finishes, and designs that not only enhance your brewing experience but also seamlessly merge with your kitchen aesthetics. From the timeless allure of classic aluminium to the contemporary elegance of stainless steel exteriors, each Bialetti Moka Pot tells a story of craftsmanship and tradition, bringing an authentic touch of Italy to your coffee corner.
Delve into the world of possibilities that our collection offers. Whether you're drawn to the elegance of a larger pot or the quaint charm of a smaller one, our range ensures that your coffee brewing experience remains an intimate and personalised ritual. With MaxiCoffee as your companion, embarking on this journey of selecting the perfect Bialetti Moka Pot becomes an adventure of its own.
As you browse through our assortment, you're not merely selecting a coffee maker; you're choosing a companion that aligns with your lifestyle, preferences, and love for coffee. So, whether you're a morning explorer seeking solitude with a single cup or a seasoned entertainer ready to share the joy with many, MaxiCoffee's collection of Bialetti Moka Pots awaits, promising to enrich your coffee moments in ways you never thought possible.
Exploring the Various Materials and sizes of Bialetti Moka Pot
When it comes to Bialetti Moka Pots, you'll find a captivating range of sizes and materials that allow you to tailor your coffee brewing experience precisely to your tastes and needs. These pots span a spectrum of sizes, catering to everyone from solo coffee enthusiasts to those who love to share a cup with friends or family. From the intimate charm of a single-cup pot to the accommodating capacity of multiple-cup variants, the Bialetti Moka Pot collection provides an array of options that ensure you can enjoy your favorite brew whether you're brewing for yourself or a gathering.
Delving deeper, the choice of materials further elevates your coffee journey. The classic aluminum models are reminiscent of the very first Moka Pot designs, exuding a timeless allure that harks back to the origin of this iconic invention. On the other hand, the sleek stainless steel exteriors offer a modern twist, blending seamlessly with contemporary kitchens while preserving the essence of tradition. Your selection of material influences not only the visual appeal of your Moka Pot but also the heat distribution and overall durability, contributing to the final taste and quality of your brewed coffee.
Beyond aesthetics, each material imparts its unique characteristics to the brewing process. Aluminum, known for its excellent heat conductivity, allows for swift and even heating, resulting in a quick and efficient extraction of coffee flavors. On the other hand, stainless steel, recognized for its resilience and longevity, offers a slower yet more controlled heat distribution that ensures every particle of coffee is infused with perfection. Your choice of material becomes an integral part of your brewing ritual, influencing factors such as brew time, temperature, and the nuances of taste and aroma that fill your cup.
Ultimately, whether you're drawn to the classic elegance of aluminum or the contemporary allure of stainless steel, the Bialetti Moka Pot collection on MaxiCoffee ensures that your coffee brewing experience is a harmonious blend of aesthetics, craftsmanship, and taste. It's not just about making coffee; it's about crafting moments of pure delight, one cup at a time.
Bialetti Moka Pot on MaxiCoffee
MaxiCoffee is your destination for all things Bialetti Moka Pot. Explore our curated range of Bialetti Moka Pots, designed to elevate your coffee brewing adventure. With a dedication to quality and an eye for tradition, Bialetti Moka Pots on MaxiCoffee promise an unparalleled coffee experience that brings the heart of Italian espresso culture right to your home.
Unlock the secrets of Italian coffee craftsmanship with Bialetti Moka Pot, available exclusively at MaxiCoffee. Experience the authentic aroma and flavor of Italian espresso with every brew.
Begin your journey into the world of Bialetti Moka Pot today, and indulge in the richness of Italian coffee culture from the comfort of your own kitchen.