Insulated mugs and tumblers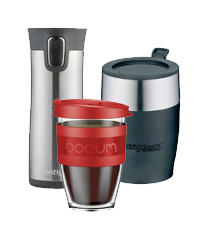 Our selection of Insulated Mugs / Tumblers
Discover our large choice of isothermal mugs. We have selected for you the best ranges of the biggest brands: Thermos King , Contigo West Loop , Bodum Travel Mugs ...
Also known as travel mugs or insulated tumblers, they can be adapted to each of your uses: insulated mug for the office, school, sport or travel. Drink your hot or cold drinks very easily thanks to long-lasting tumblers, like our stainless steel mugs. All our mugs are guaranteed BPA free
Enjoy your hot and cold drinks on the way to the office with your isothermal mug, it is ideal for snowy mornings, cool mornings. Because warming up a cup of coffee is always fun, we offer you to discover the latest isothermal mugs and innovations. In fact, with numerous brands such as Thermos , Contigo or Bodum , the number of isothermal mugs and innovations has exploded in recent years.
But how do you choose the right isotherm? Check its capacity, its use, its duration of use hot or cold, its type of opening, its capacity and its design. Don't hesitate to continue reading, we are here to help you find the right isothermal mug for you!
First of all, it is essential to determine the use you intend to make of the isothermal mug. Do you want a mug to put on your desk, or to go to work, or for your trip, or for a car cup holder? Once you've done this, it's time to choose your tumbler accordingly.
Tips for choosing your mug
Material
The 3 main materials :
Stainless steel insulated : Stronger and less fragile, it often offers the best insulation.
Plastic containers : Sometimes compatible with your microwave, it has the advantage of being lighter and less expensive.
Glass insulated mugs : Usually made of borosilicate glass, they are usually more environmentally friendly and have the advantage of not altering the taste of your drinks.
Size
The small capacity mug (less than 35 cl)
Medium capacity mugs (between 35 and 45 cl)
Large capacity (over 45 cl)
The hermeticity
So, do you want your tumbler to be 100% airtight? If you are carrying your travel mug in a bag, you will have no choice but to use a 100% airtight mug. If you keep it on your desk or in your hand, a semi-hermetic mug will be sufficient.
Discover our selection of insulated mugs and tumblers with a tea filter to allow you to brew your tea at any time of the day.
Before using it, pour boiling water or very cold water with ice cubes into the flask and close the lid for a few minutes.
Fill the bottle as full as possible so that there is no air gap, which would contribute to the cooling of the contents.
Remember to close your mug quickly after each use.
Beware of Bisphenol A (BPA)! A controversial chemical, BPA is found in some plastic products. Several studies have established a link between this chemical and health problems. That's why at MaxiCoffee we are committed to offering only products that are guaranteed to be BPA-free.
It is so nice to wake up with a good cup of coffee, tea or hot chocolate! But to increase the life of your mug, take the necessary steps to prevent bad odours from setting in. Rinse it with water after each use to avoid odours. Occasionally, you can use the miracle product: Puly CAFF by leaving half a sachet on for 10-15 minutes with warm water. Be careful, only use this product with glass or stainless steel insulated containers!
Feel free to use bicarbonate of soda with hot water. Then shake and leave for 1 hour, then rinse.
Even simpler, some of our isothermal mugs are dishwasher-safe.