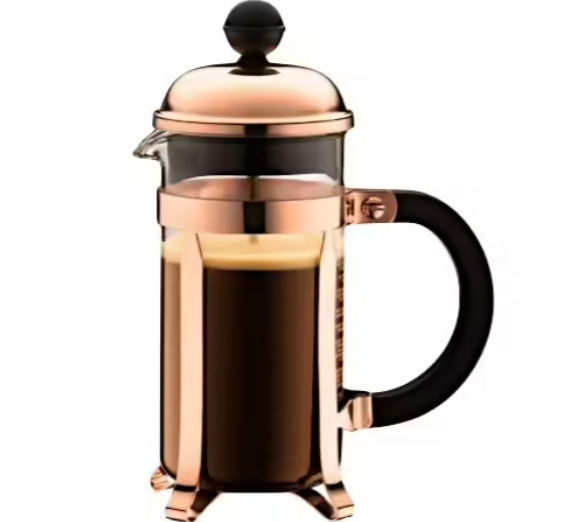 Our selection of large cafetiere
Elevate your coffee experience and find the copper cafetiere of your dream !
Designed to satisfy even the most discerning coffee enthusiasts, it's perfect for sharing delightful moments with friends and family. Crafted from high-quality materials, copper cafetiere ensures a rich and smooth coffee every time. Embrace the art of brewing with its user-friendly design, allowing you to create barista-quality coffee in the comfort of your home. Have a look at all our cafetiere .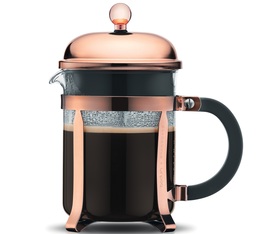 4 cups capacity (500ml)
Stainless steel surround in copper
Borosilicate glass
£30.00
Price comparison :
£43.50
In stock, dispatched within 48h
3 cups capacity (350ml)
Stainless steel surround
Borosilicate glass
£25.90
Price comparison :
£34.50
In stock, dispatched within 48h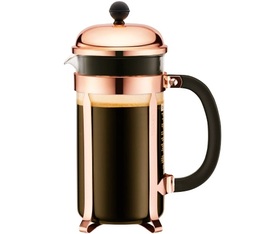 8 cups capacity (1L)
Stainless steel surround
Borosilicate glass
£37.90
Price comparison :
£51.90
In stock, dispatched within 48h
Product(s) 1 to 3 / 3 (in total)
Welcome to MaxiCoffee, where we take pride in offering the finest selection of coffee essentials to elevate your brewing experience. One of our standout products is the exquisite Copper French press - a true masterpiece in both design and functionality. In this article, we'll delve into what makes a Copper French press special, the different types available, and why it's a must-have addition to your coffee collection.
What is a Copper Cafetiere?
A Copper Cafetiere , also known as a Copper French Press, is a classic coffee brewing device that has been cherished by coffee enthusiasts for generations. It combines the rich tradition of French press brewing with the timeless elegance of copper craftsmanship. The cafetiere consists of a cylindrical glass carafe and a plunger with a fine mesh filter, allowing you to brew a delicious cup of coffee with ease.
When hot water and ground coffee meet in the carafe, the coffee grounds steep, and the essential oils are extracted, resulting in a robust and aromatic brew. The plunger, equipped with the mesh filter, is then pressed down to separate the grounds from the coffee, leaving you with a smooth and full-bodied cup to relish.
What are the different types of Copper Cafetiere?
At MaxiCoffee, we offer a carefully curated selection of Copper Cafetieres from renowned brands like Bodum and Pylano. Let's explore the two main types:
Bodum Copper Cafetiere
Bodum is synonymous with high-quality coffee equipment, and their Copper Cafetieres are no exception. Crafted with precision, these cafetieres boast a perfect blend of functionality and style. The Bodum Cafetiere complements any kitchen or coffee station, adding a touch of luxury to your brewing ritual.
Pylano Copper Cafetiere
If you're looking for a more unique and artisanal touch, the Pylano Copper Cafetiere is the ideal choice. Handcrafted by skilled artisans, each piece is a work of art. The Pylano Copper Cafetiere not only brews exceptional coffee but also doubles as an elegant centerpiece, captivating anyone with an eye for beauty and design.
Why choose a Copper Cafetiere?
A Copper Cafetiere offers coffee aficionados several advantages:
Unmatched Aesthetics: Its rich copper hue adds charm to any setting.
Heat Retention: Keeps your coffee warm for longer.
Enhanced Brewing: Steeps coffee grounds fully for a more flavorful cup.
Durable and Long-lasting: Withstands daily use and becomes a cherished heirloom.
Key features of Copper Cafetiere
Choose a Copper Cafetiere from MaxiCoffee for an exceptional brewing experience:
High-Quality Materials: Crafted from premium-grade copper for durability and exquisite appearance as well as double wall borosilicate glass for extra durability.
Ergonomic Design: Comfortable handle and plunger for easy pouring and pressing.
Generous Capacity: Select the perfect size to brew for yourself or a group of friends.
Easy to Clean: Removable parts make cleaning a breeze.
Gift-Worthy Packaging: Comes in elegant packaging, ideal for coffee enthusiasts' gifts.
Elevate your coffee ritual with our exquisite Copper Cafetieres - crafted with passion and dedication.