Caffè Vergnano
Home
Caffè Vergnano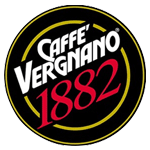 Our Caffè Vergnano Selection
Caffè Vergnano is an Italian roaster with a long and prestigious history behind it. Initially founded in 1882 by Domenico Vergnano, grandfather of the current owners, the business was set up in Italy, in the small medieval town of Chieri, at the foot of Turin Hill.

The store specialised in roasting and selling coffee, thus paving the way for what was to become the true vocation of the Vergnano family. Caffè Vergnano products are becoming staples in Italy, but also in a number of other countries including the United Kingdom.
On MaxiCoffee, you will find an extensive selection of coffees from Caffè Vergnano : capsules compatibles with Nespresso , Vergnano capsules , A Modo Mio compatible capsules , ESE pods , ground coffees , etc.
Caffè Vergnano | All Coffee Beans
Caffè Vergnano | Eco-friendly
Caffè Vergnano | All Ground Coffees
Caffè Vergnano | ESE pods
Caffè Vergnano | Dolce Gusto pods
Product(s) 40 to 78 / 112 (in total)