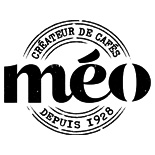 Our Café Méo selection
The French brand Café Méo was born from the know-how of Lille roasters Jules and Emile Meauxsoone in 1928.
Cafés Meo offers a wide range of quality coffees : compatible Nespresso capsules, Méo coffee beans and ground coffee. Cafés Meo has been able to adapt to the changing market demand towards a more eco - responsible approach. Indeed, the brand offers a wide choice of organic and/or fair trade coffees (via Max Havelaar certification ). Cafés Meo offers different types of coffee, including a range of premium coffee beans from selected small producers and also inexpensive coffee beans, making it possible to offer a delicious coffee to as many people as possible.
Cafés Méo | Organic Products
Cafés Méo | All Coffee Beans
Cafés Méo | Senseo pods
Cafés Méo | Organic Coffee
Cafés Méo | Coffee beans 1kg
Cafés Méo | All Ground Coffees
Cafés Méo | Italian coffee beans
Cafés Méo | Nespresso® Compatible Capsules
Product(s) 1 to 26 / 26 (in total)