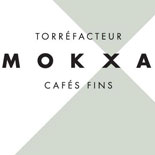 Café Mokxa: French Roasted Specialty Coffee
Since 2011, with a team of passionate people based in Strasbourg and Lyon, Mokxa works today in France and in Europe, with coffee shops, restaurants and hotels.
The Café Mokxa team brings a particular requirement to the selection of the beans with our importers or directly with the producers. All the coffees, 100% Arabica, are from sustainable or organic farming. Because coffee is an agricultural product, which is defined by climate, soil type, shade, botanical variety and altitude, their range varies throughout the year according to seasonality. Café Mokxa only works with local coffees, from current harvests, and having received a tasting score higher than 84/100.
Café Mokxa | Coffee Beans
Café Mokxa | Specialty Coffee Beans
Café Mokxa | Made in France
Café Mokxa | Organic Coffee
Café Mokxa | Organic Products
Café Mokxa | Eco-Friendly Coffee Break
Café Mokxa | Cold Brew
Product(s) 1 to 15 / 15 (in total)