Bialetti Moka Pot Induction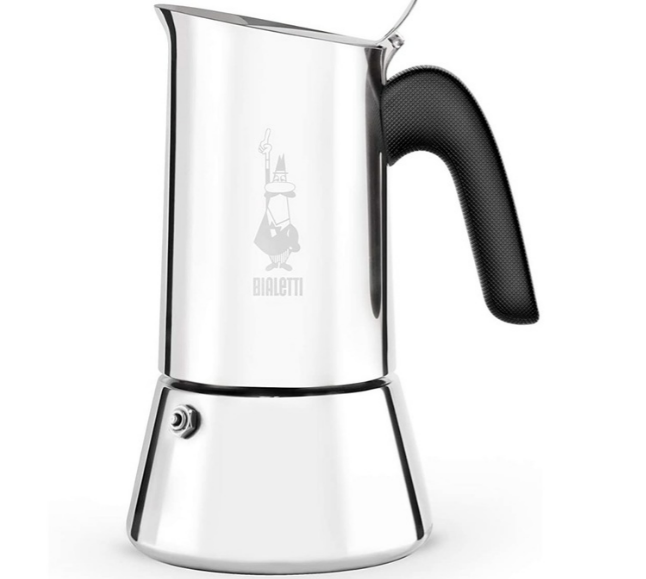 Selection of Bialetti Moka pot induction
Discover the perfect fusion of tradition and technology with the Bialetti Moka Pot Induction .
Elevate your coffee ritual with this innovative masterpiece, blending the timeless charm of a classic Bialetti Moka pot with cutting-edge induction technology. Indulge in rich, aromatic brews that dance on your taste buds, all while enjoying the ease and efficiency of modern cooking.
If you're a coffee enthusiast, the Bialetti Moka Pot Induction is a must-have addition to your collection. This ingenious espresso coffee maker combines tradition and innovation to brew a delightful cup of coffee. Crafted with precision and built to last, the Bialetti Moka Pot Induction is designed especially for modern kitchens equipped with induction stoves.
The Fame of Bialetti Moka Pot Induction
The Bialetti name has become synonymous with quality in the world of coffee lovers. Renowned for its iconic octagonal design and top-notch craftsmanship, the Bialetti Moka Pot Induction continues to be cherished by coffee aficionados worldwide. Its ability to brew a rich and robust cup of coffee has solidified its place in coffee history.
The Perfect Size of Bialetti Moka Pot Induction
Available in a range of sizes, the Bialetti Moka Pot Induction offers the perfect option for every coffee drinker. Whether you're looking to brew a single cup or cater to a larger gathering, there's a Bialetti Moka Pot Induction size to suit your needs. Its compact and ergonomic design ensures that it fits seamlessly into your kitchen setup.
How to Use Bialetti Moka Pot Induction
Brewing a cup of coffee with the Bialetti Moka Pot Induction is a straightforward process. Begin by filling the bottom chamber with water up to the designated line. Add finely ground coffee to the filter basket, ensuring a level surface. Assemble the Moka Pot, place it on your induction stove, and watch the magic unfold. The stainless steel construction ensures even heat distribution, leading to a perfectly brewed cup of coffee with a tantalizing aroma.
Our Wide Range of Bialetti Moka Pot Induction
At MaxiCoffee, we take pride in offering an extensive selection of Bialetti Moka Induction models. From different sizes to various finishes, our collection caters to every coffee enthusiast's preferences. Whether you're a fan of classic stainless steel or looking to add a pop of color to your kitchen, we have the perfect Bialetti Moka Pot Induction waiting for you.
Advantages of Buying Bialetti Moka Pot Induction on MaxiCoffee
When you choose MaxiCoffee as your source for the Bialetti Moka Pot Induction, you're not just buying a product – you're investing in an exceptional user experience. Our commitment to quality ensures that you receive a genuine Bialetti product that lives up to its reputation. With fast shipping, secure payment options, and a customer support team ready to assist you, your journey to brewing the perfect cup of coffee is smooth and enjoyable. Explore our range of Bialetti Moka Pot Induction models today and elevate your coffee brewing ritual to new heights. Join the community of coffee lovers who have discovered the art of brewing with Bialetti on MaxiCoffee.
Discover the joy of coffee-making with Bialetti Moka Pot Induction. Indulge in the rich aroma and exquisite flavor of your favorite coffee beans. Experience the convenience of brewing on induction stoves, coupled with the elegance of stainless steel construction. Elevate your mornings with the perfect cup of coffee, courtesy of MaxiCoffee.