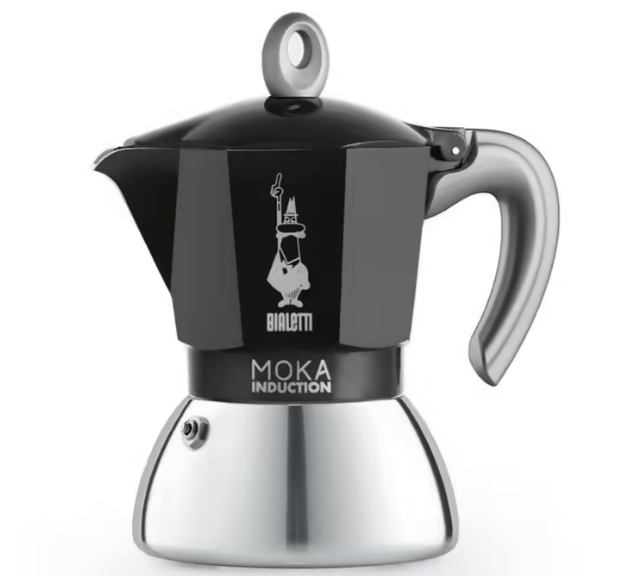 Selection of Bialetti Moka Pot 6 cup
Indulge in the rich, aromatic experience of Italian coffee with the Bialetti Moka Pot 6-cup edition.
Elevate your mornings with rich, authentic Italian coffee. Crafted with precision and elegance, this iconic stovetop coffee maker ensures a smooth, bold taste in every cup. Embrace the art of coffee-making and indulge in the ultimate coffee experience with Bialetti. Discover our whole selection of Bialetti Moka pot .
Welcome to MaxiCoffee , the ultimate destination for coffee connoisseurs! Immerse yourself in the world of the Bialetti Moka Pot 6 Cup , a true masterpiece in coffee craftsmanship. Expertly created by the renowned brand Bialetti , this moka pot is meticulously designed to deliver an exceptional brew that captures the essence of Italian coffee culture, encapsulating the centuries-old tradition of stovetop espresso brewing.
The Fame of Bialetti Moka Pot 6 Cup
The Bialetti Moka Pot 6 Cup stands as a symbol of tradition, quality, and coffee excellence. With its iconic eight-sided design and the famous "Little Man with the Moustache" logo, the Bialetti Moka Express has transcended generations, becoming a global coffee icon celebrated by coffee enthusiasts and professionals alike. From bustling cafes in Milan to cozy kitchens worldwide, the Bialetti Moka Pot 6 Cup has earned its place in the hearts of coffee aficionados.
The Perfect Size of Bialetti Moka Pot 6 Cup
Size is a pivotal aspect of achieving coffee perfection, and the Bialetti Moka Pot 6 Cup delivers flawlessly. Brewing 6 cups of espresso , it's tailor-made for sharing delightful coffee moments with friends and family or savoring moments of solitude. The Bialetti Moka Pot 6 Cup elegantly merges the Italian coffee culture's soul with modern convenience, ensuring you can easily craft a pot of rich and aromatic espresso that embodies centuries of Italian tradition.
How to Use Bialetti Moka Pot 6 Cup
Brewing with the Bialetti Moka Pot 6 Cup is a sensory journey that culminates in a symphony of flavours. Follow these steps to create your perfect espresso:
Disassemble the Bialetti Moka Pot into its three components: the bottom chamber, the filter, and the top chamber.
Fill the bottom chamber with water up to the safety valve.
Add finely ground coffee to the filter, ensuring even distribution.
Reassemble the Bialetti Moka Pot and place it on a medium heat source.
As the water heats, steam passes through the coffee, creating six cups of aromatic espresso that embody the heart of Italian coffee.
Once you hear the soft hiss, your espresso is ready.
Pour into cups and relish the exquisite taste of Italian coffee culture.
Our Wide Range of Bialetti Moka Pot 6 Cup
MaxiCoffee takes immense pride in presenting a diverse collection of Bialetti Moka Pot 6 Cup options. From classic designs that pay homage to tradition to modern interpretations, our selection caters to every coffee enthusiast's palate. Immerse yourself in the art of espresso brewing with our premium stovetop coffee makers, each a testament to Bialetti's dedication to achieving coffee perfection. Our wide range ensures that you find the perfect Moka Pot 6 Cup that resonates with your personal taste and style.
Advantages of Buying Bialetti Moka Pot 6 Cup on MaxiCoffee
Why choose MaxiCoffee for your Bialetti Moka Pot 6 Cup? Here are the advantages:
Authentic Bialetti Excellence: Our collection features genuine Bialetti products, ensuring an authentic Italian coffee experience.
Diverse Selection: Explore a range of 6-cup moka pots to find the perfect fit for your individual coffee style and preferences.
Coffee Expertise: Our knowledgeable team can guide you towards making an informed decision, sharing insights on brewing techniques, coffee origins, and maintenance.
Convenient Shopping: Shop effortlessly, and your chosen Bialetti Moka Pot 6 Cup will be promptly delivered to your doorstep, ensuring a seamless and convenient experience.
Customer Satisfaction: Our commitment to excellence extends beyond the products, ensuring your satisfaction both in product quality and service excellence. We are dedicated to making your coffee journey exceptional.
Elevate your coffee journey with the exceptional quality and heritage of Bialetti Moka Pot 6 Cup options, available exclusively at MaxiCoffee. As you brew with this masterpiece, embrace the rich history and time-honored tradition of Italian coffee culture. Indulge in moments of pure delight as you enjoy the finest brews, capturing the essence of Italy's coffee legacy.