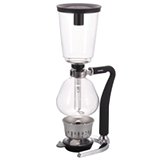 Our selection of vacuum coffee makers
The  vacuum coffee maker (also known as siphon or syphoon coffee maker) is strongly coming back in the world of coffee !

It is a magical brewing process that will make you feel like an alchemist and be the talking point of your guests ! The vacuum coffee maker is not only an elegant object, it also produces a light, infusion-like coffee with wonderful aromas.  A must-try if you want to rediscover coffee !
The most popular brands are available on MaxiCoffee : Hario , Bodum and many more!
To help you out, we are also written a blog:  How to make coffee with a vacuum coffee maker .
Product(s) 1 to 14 / 14 (in total)