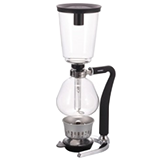 Our selection of vacuum coffee makers
If you love the unique taste of freshly brewed coffee, then a vacuum coffee maker is the right choice for you.
It is a magical brewing process that will make you feel like an alchemist and be the talking point of your guests ! The vacuum coffee maker is not only an elegant object, it also produces a light, infusion-like coffee with wonderful aromas. Not only do they produce exquisite rich flavourful aromas, but these devices also offer several distinct advantages.
At MaxiCoffee, we take pride in our selection of high-quality vacuum coffee makers and can provide advice to help find something perfect for every home brewer's needs. Discover why this elegant brewing option could be your go-to method for pour-over style flavor perfection!
Vacuum Coffee Maker coming back in stock soon
Product(s) 1 to 15 / 15 (in total)
What is a Vacuum Coffee Maker?
A Vacuum Coffee Maker , also known as a siphon coffee maker, is a unique brewing device that dates back to the 19th century. It uses a captivating process that combines the principles of vacuum and siphoning to create an exquisite cup of coffee. The device typically consists of two chambers—one at the bottom for water and another on top for coffee grounds.
The brewing process begins as water is heated in the bottom chamber. As the water rises, it mixes with the coffee grounds in the top chamber. Once the perfect brewing time is reached, the heat source is removed, creating a vacuum effect . This draws the brewed coffee back down through a cloth filter into the bottom chamber, leaving the used coffee grounds behind.
Why choose a Vacuum Coffee Maker?
You might wonder why you should opt for a Vacuum Coffee Maker when there are various other brewing methods available. The answer lies in the taste and experience it offers. The Vacuum Coffee Maker's unique process allows for precise control over factors like brewing time and water temperature, resulting in a coffee that's rich in flavor and devoid of bitterness.
Moreover, the use of borosilicate glass ensures the purity of your coffee, as it doesn't impart any unwanted flavors. The visual spectacle of the brewing process is an added bonus, making it a delightful centerpiece for any coffee lover's kitchen.
What are the different types of Vacuum Coffee Maker?
There are several types of Vacuum Coffee Makers available, each with its own design and nuances that affect the brewing process. Let's explore some of the most popular types:
The Syphon Coffee Maker
The classic syphon coffee maker, like the renowned Bodum Pebo, is the epitome of elegance and functionality. Its hourglass shape and stunning glassware make it a visual delight, while the brewing process captivates coffee enthusiasts with every use. The Bodum Pebo, with its exceptional build and thoughtful design, is a top choice for those seeking a premium coffee brewing experience.
The French Press
Although not strictly a Vacuum Coffee Maker, the French press shares some similarities with the syphon method. It utilizes a plunger to separate the coffee grounds from the water, producing a full-bodied and rich cup of coffee. While not as visually stunning as the syphon, the French press remains a beloved classic for coffee enthusiasts worldwide.
Step-by-Step guide to using a Vacuum Coffee Maker
Using a Vacuum Coffee Maker may seem intimidating, but fear not! It's a simple process that rewards you with an exceptional cup of coffee. Here's a step-by-step guide to help you get started:
Step 1: Prepare Your Equipment
Before you begin, ensure that your Vacuum Coffee Maker is clean and assembled correctly. Check the filter and other components to ensure they're in good condition.
Step 2: Add Water and Coffee Grounds
Fill the bottom chamber with the appropriate amount of hot water and place the top chamber securely on top. Add the desired amount of freshly ground coffee to the top chamber.
Step 3: Heat the Water
Turn on the heat source and wait for the water in the bottom chamber to boil and rise into the top chamber. This is where the magic begins!
Step 4: Brew Time
Allow the coffee grounds to steep in the hot water for the recommended time, typically around 1 to 2 minutes.
Step 5: Remove Heat Source
Once the brewing time is complete, remove the heat source to let the vacuum do its job. As the water cools down, it will be drawn back into the bottom chamber, leaving the brewed coffee in the top chamber.
Step 6: Serve and Enjoy
Carefully separate the top chamber, which now holds your delicious coffee. Pour it into your favorite coffee cup, take a moment to appreciate the aroma, and savor the taste of your perfectly brewed coffee.
How to make the best coffee with a Vacuum Coffee Maker
Making the best coffee with a Vacuum Coffee Maker requires attention to detail and a few additional tips:
Use High-Quality Coffee Beans
Start with fresh, high-quality coffee beans that suit your taste preferences. Experiment with different roasts and origins to find your perfect blend.
Measure the Coffee Grounds
Be precise with your coffee-to-water ratio. The right amount of coffee grounds ensures the optimal extraction of flavors.
Proper Grind Size
Grind your coffee beans to a medium-coarse consistency, similar to sea salt. This helps maintain the right balance between flavor extraction and over-extraction.
Water Temperature Matters
Use hot water just below boiling point, typically around 195°F to 205°F (90°C to 96°C). This ensures proper extraction without scalding the coffee.
Experiment and Adjust
Taste preferences vary, so don't be afraid to experiment with brewing times and other variables. Adjust until you find your perfect cup.
Cleaning and Maintenance Guide of your Vacuum Coffee Maker
To ensure your Vacuum Coffee Maker continues to brew outstanding coffee, regular cleaning and maintenance are essential. Here's a guide to keep your coffee brewer in top condition:
Daily Cleaning
After each use, rinse all parts of the Vacuum Coffee Maker with warm water. Make sure to remove any coffee grounds stuck in the filter or chambers.
Weekly Deep Clean
Disassemble the Vacuum Coffee Maker and wash all parts thoroughly with warm, soapy water. Pay close attention to the filter and the chambers.
Avoid Using Harsh Chemicals
Never use harsh cleaning agents or scouring pads on the glassware or other components. These can leave behind residues and affect the taste of your coffee.
Check for Wear and Tear
Regularly inspect your Vacuum Coffee Maker for any signs of wear or damage. Replace filters and worn-out parts promptly to maintain the quality of your brew.
Replacing Vacuum Coffee Maker Filters and Parts
As with any coffee brewing equipment, certain components will need replacement over time. Here are some tips for replacing Vacuum Coffee Maker filters and parts:
Buy Genuine Replacement Parts
When it's time to replace filters or other components, opt for genuine parts from the manufacturer or a trusted supplier like MaxiCoffee. This ensures compatibility and maintains the quality of your brewing experience.
Follow Manufacturer's Guidelines
Always follow the manufacturer's instructions when replacing filters or other parts. Improper installation may affect the brewing process or even damage the device.
Regularly Replace Cloth Filters
Cloth filters have a limited lifespan, so be sure to replace them periodically. Regular replacement ensures optimal filtration and excellent coffee taste.
Seek Professional Assistance
If you encounter any issues during replacement or maintenance, don't hesitate to seek assistance from our knowledgeable customer support team or a professional technician.
Now that you're equipped with the knowledge of Vacuum Coffee Makers and how to use and maintain them, it's time to embark on your coffee brewing journey. Explore our premium selection of Vacuum Coffee Makers at MaxiCoffee and elevate your coffee experience to new heights. Happy brewing!