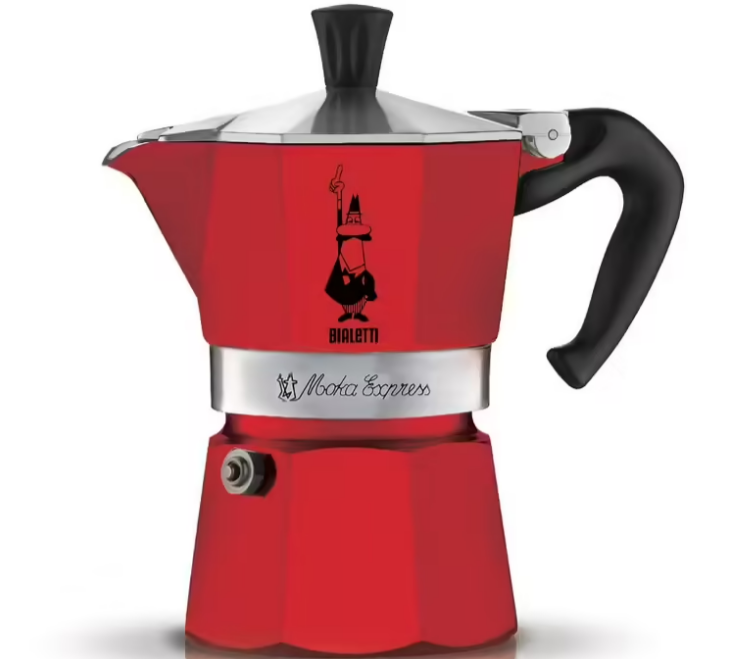 Our selection of Moka Pot 3 cup
Indulge in the rich, aromatic experience of freshly brewed coffee with the Moka Pot 3 Cup .
Designed to capture the essence of Italian espresso tradition, this elegant coffee maker delivers rich, full-bodied coffee with every brew. Easy to use, durable, and compact, enjoy the convenience of making three cups of authentic coffee in just minutes. Have a look at our wide range of moka pot .
Welcome to MaxiCoffee , your ultimate destination for coffee enthusiasts! The Moka Pot 3 Cup is a must-have addition to your collection, designed for those who appreciate bold espresso flavors. Crafted to perfection, these stovetop espresso makers , or moka pots , create a delightful cup of espresso on your stovetop.
The Perfect Size of Moka Pot 3 Cup
Size matters in your coffee experience. The Moka Pot 3 Cup is designed for those seeking the ideal caffeine fix. Brew 3 cups of espresso , perfect for sharing a coffee moment with friends or treating yourself to a triple-shot of espresso to energize your day. With its top chamber for ground coffee and bottom chamber for boiling water, this stainless steel stovetop coffee maker beautifully blends tradition with modernity.
How to Use Moka Pot 3 Cup
Brewing with the Moka Pot 3 Cup is simple and rewarding. Follow these steps:
Disassemble the Moka Pot into three parts: bottom chamber, filter, and top chamber.
Fill the bottom chamber with hot water up to the safety valve.
Add finely ground coffee to the filter, ensuring even distribution.
Assemble the Moka Pot securely.
Place on medium heat to boil water and extract coffee flavors.
When you hear the hiss, your espresso is ready.
Pour into cups and enjoy!
Our Wide Range of Moka Pot 3 Cup
MaxiCoffee takes pride in offering premium coffee products, including the Moka Pot 3 Cup. Choose from classic designs to modern stainless steel options. Indulge in the art of brewing espresso with our high-quality stovetop coffee makers, catering to various designs, materials, and brands.
Advantages of Buying Moka Pot 3 Cup on MaxiCoffee
Why choose MaxiCoffee for your Moka Pot 3 Cup? Consider these benefits:
Wide Variety: Explore our range of 3-cup moka pots, finding your preferred design and material.
Quality Assurance: Our collection features renowned brands, ensuring a reliable investment.
Coffee Expertise: Our team assists in informed decisions, sharing coffee insights.
Convenience: Shop hassle-free, and your Moka Pot 3 Cup will be at your doorstep.
Customer Satisfaction: Our commitment to excellence speaks for itself.
MaxiCoffee enhances your coffee journey with the finest Moka Pot 3 Cup options.
Elevate Your Coffee Moments with Moka Pot 3 Cup
Transform your coffee routine with the Moka Pot 3 Cup from MaxiCoffee. Beyond coffee, it's an immersive experience filled with anticipation as the aroma envelops your kitchen, and a satisfying sip of perfectly brewed espresso.
The Joy of Sharing, Threefold
The Moka Pot 3 Cup allows you to share a coffee moment with friends. Brew three cups of espresso, each brimming with intricate flavors only a Moka Pot can bring out. It's more than a coffee maker – it's a connection catalyst.
Brewing Brilliance with Moka Pot 3 Cup
Mastery in Moka Pot 3 Cup Brewing
Master the art of Moka Pot 3 Cup brewing. The dance of medium heat on your stovetop heralds a symphony of flavors. As water heats and coffee steeps, the top chamber fills with coffee essence, a visual testament to the magic within.
Your Ultimate Moka Pot 3 Cup Awaits
Ready to embrace Italian coffee culture at home? Explore our Moka Pot 3 Cup range at MaxiCoffee. Don't settle for ordinary – immerse yourself in the journey of crafting coffee with the timeless elegance of the Moka Pot 3 Cup.