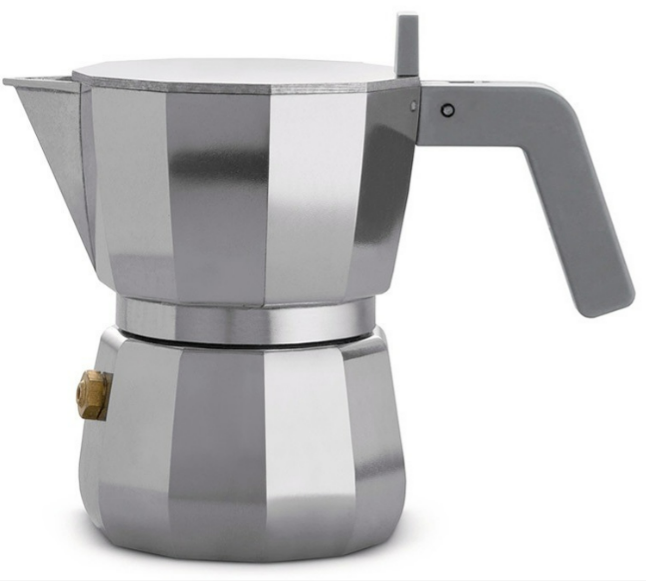 Our selection of Moka Pot 1 cup
Experience the perfect single cup of rich, aromatic coffee with the Moka Pot 1 cup !
Crafted with precision, it brews rich and aromatic espresso, delivering that perfect pick-me-up in just minutes. Embrace the Italian coffee tradition and savour the authentic taste of freshly brewed coffee at the comfort of your home. Discover our whole selection of Moka pot .
Welcome to MaxiCoffee , your haven for coffee aficionados! Enter the world of Moka Pot 1 Cup , a tiny wonder designed to delight solo coffee enthusiasts. Crafted for the perfect single serving of espresso , this charming stovetop espresso maker promises a rich and aromatic experience that's as convenient as it is satisfying.
The Perfect Size of Moka Pot 1 Cup
Size matters when it comes to coffee perfection. The Moka Pot 1 Cup is meticulously engineered for the ultimate single espresso. Experience the joy of indulging in a rich and flavourful shot of espresso that's just right for starting your day on a high note or savoring a moment of tranquility.
How to Use Moka Pot 1 Cup
Brewing with the Moka Pot 1 Cup is a straightforward process that leads to a remarkably satisfying result:
Disassemble the Moka Pot into its three components: the bottom chamber, the filter, and the top chamber.
Fill the bottom chamber with water up to the safety valve.
Add finely ground coffee to the filter, ensuring an even distribution.
Reassemble the Moka Pot and place it on a medium heat source.
As the water heats, steam passes through the coffee, creating a single cup of exquisite espresso.
Once you hear the characteristic hissing sound, your espresso is ready.
Pour the freshly brewed espresso into your cup and relish the moment.
Our Wide Range of Moka Pot 1 Cup
At MaxiCoffee, we take pride in offering a diverse selection of 1 cup Moka Pot options. Despite its diminutive size, this stovetop espresso maker boasts a variety of designs and materials to suit your preferences. Choose from classic to contemporary styles and embark on a solo espresso adventure.
Advantages of Buying Moka Pot 1 Cup on MaxiCoffee
Why choose MaxiCoffee for your Moka Pot 1 Cup? Here are the benefits:
Wide Variety: Our collection encompasses a range of 1-cup moka pots, ensuring you find the perfect match.
Quality Assurance: We offer renowned brands known for their commitment to excellence.
Coffee Expertise: Our team is passionate about coffee and can guide you in making the right choice.
Convenience: Shopping with us is hassle-free, and your chosen Moka Pot 1 Cup will arrive at your doorstep.
Customer Satisfaction: Our reputation for outstanding products and service speaks for itself.
Elevate your coffee journey with the delightful experience of Moka Pot 1 Cup, available exclusively at MaxiCoffee .