Our selection of Krups cleaning products
Maintaining your Krups coffee machine is a must to ensure the quality of your coffee and machine.
We have selected the best cleaning products from the Krups range : descalers , detergents , other cleaning products so you can successfully look after your machine.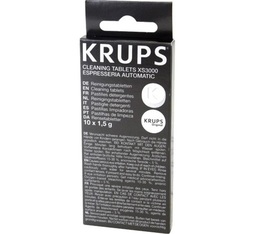 Cleaning tablets
Coffee group cleaner
For Krups coffee bean machines
Box of 10 tablets
£9.90
Price comparison :
£11.90
The brand of manufacturer's suggested retail price.
Learn more
In stock, dispatched within 48h
Product(s) 1 to 1 / 1 (in total)