Our selection of instant coffees in individual sticks
Are you looking for a convenient and easy to drink coffee? Choose our instant coffees in pod format .
These instant coffees allow you to drink your favorite drink anytime, anywhere. Take a stick, then add hot water to your coffee cup! We offer several types of freeze-dried coffee . Find your favorite brands and the desired quantity! These coffee sticks can be wholesaled for professionals or large events. Finally, discover all of our offers on soluble coffee on MaxiCoffee.
100 sticks of 2g of Green Lion Coffee. An aromatic and smooth cup with an intense body. Its full texture and its smooth, long-lasting taste will be appreciated.
In stock, dispatched within 48h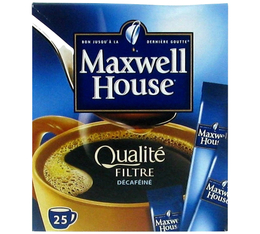 Discover this Maxwell House Quality Filter Decaffeinated instant coffee which lets you make a coffee in an instant! One box contains 25 sticks.
In stock, dispatched within 48h
Product(s) 1 to 2 / 2 (in total)
No need to present it, soluble coffee has been known for generations. Often misjudged for its rendering in cup, it is nevertheless an excellent alternative to enjoy a good coffee wherever you want. Especially since today, you can find quality soluble coffee sticks with a meticulous blend of the best coffee beans.
A soluble coffee, like an espresso requires careful preparation, too much water or not enough will give a result that will not meet your expectations. Soluble coffee is created with the careful assembly of the best coffees.
At MaxiCoffee, we offer several stick coffee formats: Packs of 25 sticks, 80 or 100. Also, we recommend 100% arabica and/or organic packs.
The advantage of coffee in individual sticks
The first undeniable advantage is that you can prepare your coffee wherever you want, simply by carrying hot water. It also allows not to be mistaken in the dosage of coffee, which can modify the result in cup. All that remains is to add the amount of water required to enjoy your drink.
Be careful to stir enough so as not to end up with lumps that can surprise you during the tasting. A soluble coffee will not be good if it is not well prepared. Do not hesitate to make several attempts by varying the quantity of water.
You will easily find the recipe that suits you. Instant coffees reveal an aromatic richness thanks to the meticulous blending of the best coffees.
Different coffee stick recipes
Soluble coffee is made by passionate and expert teams who use their knowledge to create the best recipes. It starts with the use of exceptional coffee which reveals an aromatic richness once in the cup.
Soluble coffee is not limited to coffee, you find today recipes such as cappuccino or with a touch of chocolate, gourmets will also find their happiness. We've even prepared an anti-craving pack for those who love to enjoy their coffee in the great outdoors.