The Hario Buono Kettle is a drip kettle made from real copper. The perfect addition to complement, amongst others, v60 drippers. 900ml capacity.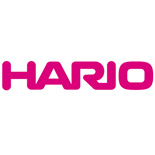 Hario 
Hario (meaning "King of Glass") is a Japanese company that has been specialising in tableware since 1921. Hario rapidly gained notoriety thanks to its range of teapots and famous vacuum coffee makers, also known as a "Syphon coffee makers".
Hario® is recognized by the greatest baristas as the best coffee 'filtering process' for taste: the company has made its mark as providing THE highest quality standards.
Maxicoffee Bestsellers Rank
| Hario Buono copper kettle - 900 ml | |
| --- | --- |
| Volume | 0.9 L |
| Main material(s) | Stainless steel |
| Dominant colour(s) | Copper |
| Cup capacity | 8 cups |
| Dimensions (WxDxH) | 300 x 140 x 155 mm |
| Compatible with all heat sources except induction | Yes |
| Kettle type | For slow coffee, Non-electric |
| EAN : | 4977642021099 |