MaxiSummer Special Offer:
Spend 39£ in this special summer selection and get a FREE MUG*!
(only 20 left!) +
10% OFF
with code
10SUMMER
- until 08/08/22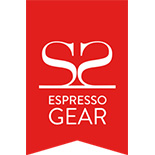 Espresso Gear is a Swedish company offering fine coffee accessories such as filters, coffee brewers, pour over kettles, tampers, scales... 
Their goal is to "constantly be one step ahead with new fun and clever gear which really adds significant value to your daily work as a barista."
Discover all the Espresso Gear products on MaxiCoffee !