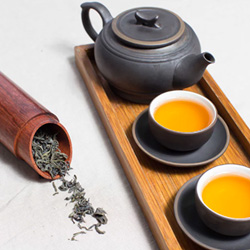 Its name comes from an English count: Earl Grey. This tea is a blend of two black teas from India and Sri Lanka, enhanced with bergamot and either fruit pieces or artificial and natural flavours.
While many versions of Earl Grey tea exist as it was duplicated with green tea, rooibos and even herbal tea.
A few flower petals sometimes complement Earl Grey tea, offering a touch of sparkle and delicacy. Enjoy this essential tea throughout the day, ideal with a slice of orange to accentuate its citrus notes ! 
Find your favourite Earl Grey on MaxiCoffee as loose leaf tea, tea sachets / tea bags, selection packs etc...