Cleaning Products - Other Brands
Cleaning products for other brands
Maintaining your manual or automatic coffee machine, cafetiere or even kettle is a must to maintain the quality of your tea or coffee's aromas but above all, your machine.
We have selected the best cleaning products for your coffee machine: descalers,, detergents, and other cleaning products so you can look after your machine. Discover products dedicated to specific big brands (Ascaso, Rocket, Bravilor, Cafetto, AirCraft, FrancisFrancis, Rok, Miele, Severin, etc.).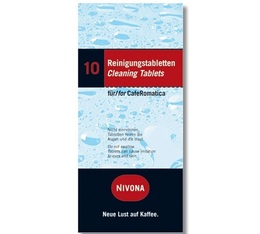 The Nivona coffee cleaning Tablets highly effectively remove coffee residue and oils. 10 coffee cleaning tablets.
£12.90
Price comparison :
£13.50
The brand of manufacturer's suggested retail price.
Learn more
In stock, dispatched within 48h
Replacement water filters suitable for CASO rapid water dispenser HW40. For the improvement of water quality and reduction of the formation of limestone.
In stock, dispatched within 48h
Product(s) 1 to 2 / 2 (in total)