Cafés Tchanqué
Home
Cafés Tchanqué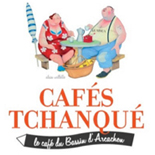 After 35 years of experience in selling green coffee beans, Nicolas Bellangé created Cafés Tchanqué : a local coffee brand from the South West of France.
Just like an experienced winemaker, Mr Bellangé developed coffee blends from different origins: Brazil, Cameroon, Colombia, Ethiopia, Indonesia, India, Guatemala, Mexico or Salvador ...
With Cafés Tchanqué, discover these countries, plantations and aromas in a good cup of coffee.
Cafés Tchanqué offers a range of carefully selected coffee blends as capsules compatible with Nespresso, ground coffee and coffee beans. Each coffee name has a reference to the name of a town or neighbourhood from the Arcachon Bay!