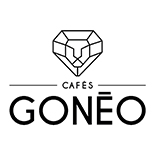 Our Cafés Gonéo Selection
Cafés Gonéo is an artisanal roasting house based in Lyon , which perpetuates the tradition of speciality coffee.
ach coffee is roasted independently and only then is it blended. The aim is to make the most of the potential and aromatic intensity of each terroir. Cafés Gonéo wants to communicate this understanding of the product to everyone in order to guarantee the best possible coffee tasting experience. A luxurious selection of the finest coffee terroirs and the know-how of the chosen producers make Cafés Gonéo the leading brand for speciality coffees .
Cafés Gonéo | Coffee Beans
Cafés Gonéo | Specialty Coffee Beans