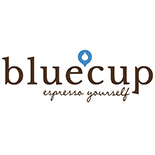 The BlueCup brand specialises in reusable plastic capsules/pods for Nespresso ® machines. Convenient and simple to use, Bluecup allows you to make your own capsules using your favourite ground coffee.
Reduce waste and save money ! 
Find the Bluecup kit on MaxiCoffee and all the spares you may need (extra capsules, foils ...).
Drink the coffee you want and do your bit for the environment.