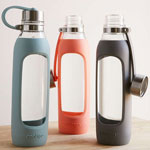 Our selection of the best water bottles
Discover our wide range of water bottles . Hydration must remain a priority to stay healthy.
The water bottle is the best alternative to plastic bottles: it is practical, easy to carry and infinitely reusable. Generally lighter, these bottles have been specially designed to be portable and easy to carry. As well as a whole range of isothermal containers. Find a large choice of isothermal or stainless steel bottles , with several choices of sizes. The design is not left out, Contigo and Monbento have deployed all their imagination to make them fashionable products , the must-have of the moment.
Water bottles coming back in stock soon
Product(s) 1 to 13 / 13 (in total)
Today in France, nearly 25 million plastic bottles are thrown away every day and this figure continues to rise despite the awareness of the over-consumption of resources. It is urgent to adopt new habits and the brands are well aware of this.
They offer products that are easy to carry and easy to clean. There are several types of hydration bottles for every type of activity, whether it's a hike, a bike ride, at work or simply to follow you everywhere. Each one will meet several criteria by its composition, with or without handle for example.
The importance of choosing your bottle is its practicality, its composition which should not alter the taste of your water and not contain harmful substances.
One of the main criteria is that your bottle should be airtight, as no one likes to find their stuff wet in their bag and an empty bottle to top it all off. A semi-airtight bottle will be more than sufficient for use in your office. However, if you want your bottle to follow you everywhere, 100% airtight should be one of your first criteria.
Sports bottle
When practicing a sport activity, it is compulsory to use a water bottle. If you are running, you will have to stop. However, if you use a sports cap or a water bottle with a straw, you can continue your activity.
There are bottles with straws, built-in straws and no spills. It is better to use a water bottle than a single-use water bottle.
Stainless steel water bottle
The advantage of a stainless steel bottle is its ability to keep drinks cool or warm for several hours. This type of insulated stainless steel bottle has the advantage that it does not alter the taste of your drink. This insulated bottle is the ideal accessory for all trips. They are available with a double wall.
Children's water bottle
Whether you want to hang it on your bike or slip it into your bag, a child's water bottle must above all be light. They often have a small capacity of 350 ml on average so as not to be heavy. They are ergonomic so that your child can hold it easily in his hand.
Bottles are most often made of two types of material, plastic or stainless steel. The most commonly chosen bottles are those made of stainless steel, which keeps the drink cold or hot and, above all, does not alter its taste. The second most common component is plastic, which has often been known to contain harmful substances such as BPA.
Today manufacturers are forbidden to use it and at MaxiCoffee we have chosen to select products that are compliant, you will not find bottles containing BPA. You can choose a plastic bottle with peace of mind.
It is advisable to rinse your bottle with clean water after each use. However, if you use your bottle every day, a thorough cleaning is recommended every 15 days. To do this, simply fill the container by half with warm water and a spoonful of baking soda or Puly Caff, stir, leave for a few minutes and rinse thoroughly. Your gourd will be as good as new!