Indulge yourself with this organic Detox tea, Kusmi Tea's iconic blend! It's the perfect go-to for wellness breaks throughout your day. Zesty notes of lemon and lemongrass enhance a natural combination of green tea and mate, making Detox tea a fresh, fruity and healthy blend. 25 individually-wrapped tea bags.
Main caracteristics
Type of tea

Green tea / Maté
Flavour

Flavoured
Aromas

Lemon
Notes

Fruity
origin
--
brewing guide

3-4 min
90°C

Day
Kusmi Tea - Organic Detox
Looking for a detox blend to cleanse you from the inside out? Let yourself be tempted by the very first product in the Kusmi Tea Detox range. You will love this blend of green tea and mate combined with lemon zest. A fresh recipe, enchanting and rich in taste.
This blend is organically grown.
Ingredients: mate, green tea, lemongrass and organic lemon flavouring.
The Kusmi Tea Detox range
Created in 2007, Kusmi Tea's iconic Organic Detox blend was the very first to be released. It is the perfect ally for moments of well-being throughout the day. Fresh, fruity and invigorating, you will not be able to detox from your Détox Bio.
You can find a whole range of Kusmi Tea detox teas at Maxicoffee, including one of their bestsellers, the BB Detox.
What is maté?
Maté is starting to gain more and more supporters, with many people enjoying it every day. And for good reason, it is said to have many virtues, notably detoxifying and rich in antioxidants. The real name of mate is Yerba mate, this plant comes from a tree of the holly family growing in South America.
The Argentines, who consume mate throughout the day, prepare it according to an unchanging ritual: the leaves are placed in a mate, sugar, honey or spices are added, a well is created in which a bombilla (a small cylinder used as a straw and filter) is inserted, hot water is poured in, it is left to infuse and is enjoyed without moderation.
Kusmi Tea Bags
Kusmi Tea offers a range of teas in individual 50g bags so you can take your tea with you wherever you go.
Kusmi Tea tea bags are made from natural corn fibre, a bio-sourced material manufactured by the transformation of renewable plant materials. These bags are made and bagged in France. They are biodegradable and can be industrially composted in adapted collection channels.
Discover our entire range of Kusmi Tea teas and infusions.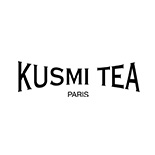 Kusmi tea
Kusmi Tea is synonym of refined and organic teas. Enjoy a cup of Wellness tea, Classic tea or flavoured tea… choose your favorite blend or try something new!
Maxicoffee Bestsellers Rank