Discover this Kiwi Syrup by Routin. This syrup offers all the fruity and fresh notes of kiwi with a hint of acidity, perfect for any type of drinks: iced tea, limonade, soft drinks, etc. This syrup is sold in a PET plastic bottle to prevent it from breaking. 1L bottle.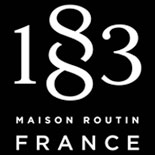 1883 Maison Routin
Maison Routin - Pursuing aromatic excellence for more than 130 years. The brand is famous for their high quality syrups, toppings and coulis. Routin products are developed within the exceptional surroundings of the French Alps.
Flavours inspired by the purity of the Alpine water and the quality of the clean mountain air.
Maxicoffee Bestsellers Rank
| Syrup 1883 Routin Kiwi in Plastic Bottle - 1L | |
| --- | --- |
| Bottle material | PET |
| Capacity per bottle | 100 cl |
| Packaging | 1 unité(s) |
| Applications | Water, Sodas, Lemonades, Milkshakes, Frappés, etc., Cocktails |
| Label | No preservatives, No GMOs |
| Flavours | Exotic Fruits |
| EAN : | 3217690045946 |