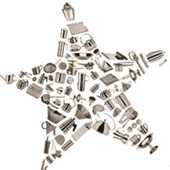 In the heart of the Italian city Ferrera, two men, driven by a shared passion and an excitement of the city, created the Stella brand.

Since 1924, the brand has paid close attention to the quality and finish of their products. Each Stella coffee maker is handmade, each item is unique. Stella's technical strengths and high-precision details make it unmistakable.

As such a Moka pot coffee maker is no longer just a functional object, but a means of expression that allows the user to enjoy and share these coffee moments. It's in this spirit that Stella designs and manufactures moka pots and prestigious accessories : pure pleasure.