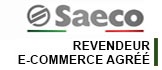 Founded in 1981 in Italy, Saeco is the inventor of entirely automatic coffee machines with integrated grinder to create an Italian espresso.
Discover perfect drinks such as espresso, ristretto or cappuccino thanks to legendary cup-to-bean machines such as the Incanto, Moltio, PicoBaristo Xelsis or GranBaristo Avanti.
Our experts will advise you: by phone on 020 3481 1654.
4 good reasons to buy Saeco on MaxiCoffee