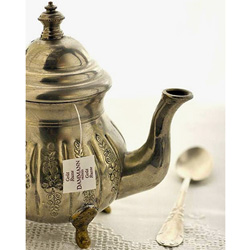 Our selection of Russian tea
Please note, we are talking about Russian Flavoured Tea and not the Russian tea preparation ritual, in its traditional Samovar.
Russian Flavoured Tea is a blend of black teas embellished with essential oils and citrus peels . When tasting, we can often distinguish notes of orange and bergamot. This typical blend is sometimes sprinkled with spices to accentuate the energy provided by this drink. Russian Flavoured Tea offers a vibrant colour and a flavour explosion.
Product(s) 1 to 11 / 11 (in total)
What is Russian Tea Brewing?
Russian tea brewing is a centuries-old tradition that involves steeping loose tea leaves in a samovar, a traditional Russian tea urn. The tea is brewed using hot water from the samovar and served with a range of accompaniments, such as lemon, honey, sugar, and jam. This style of tea brewing is not only a delicious and refreshing way to enjoy tea, but it's also steeped in cultural significance and history.
Rich Flavor: Russian tea brewing allows you to fully extract the flavors and aromas of the loose tea leaves, resulting in a rich and robust cup of tea. The samovar keeps the water hot, allowing for a more thorough infusion of the tea leaves.
Health Benefits: Many types of tea are known to have health benefits, such as antioxidants and anti-inflammatory properties. By brewing loose tea leaves in a samovar, you can reap these benefits to the fullest extent.
Social Bonding: In Russian culture, tea brewing is often a social activity that brings people together. Sharing a pot of tea with friends or family can be a great way to bond and connect.
Additionally, the process of brewing tea in a samovar allows for a slower, more relaxed experience. It's the perfect way to unwind and enjoy a hot drink with friends or family. And for those looking for a caffeine boost, Russian tea brewing can provide a quick pick-me-up that's less intense than coffee.
Wide Selection of Teas and Accessories
At MaxiCoffee.com, we offer a wide selection of loose teas, tea bags, and tea accessories to help you create the perfect cup of Russian tea. From classic black teas to more unique blends, our selection is sure to please any tea lover.
We also carry a variety of samovars, teapots, and infusers to help you brew your tea like a pro. Whether you prefer a traditional copper samovar or a modern glass teapot, we have options for every taste and style.
Competitive Prices and Fast Shipping
At MaxiCoffee.com, we strive to offer competitive prices on all our tea brewing supplies. We believe that everyone should have access to high-quality teas and accessories, no matter their budget. Plus, with our fast shipping options, you can enjoy your new tea supplies in no time.