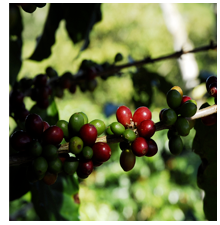 Robusta coffee represents 35% of global production. This type of coffee is robust, hence its name Robusta !
Robusta are generally produced in lowlands at a low altitude , is mainly found in West Africa and South East Asia. It is resistant to diseases and its coffee yield is higher. In terms of taste, robusta is a very strong coffee , more bitter and richer in caffeine than Arabica. Very commonly used for a traditional Italian espresso.
Lots of robusta coffees are available on MaxiCoffee : Robusta coffee beans , Robusta ground coffees , capsules compatible with Nespresso® and ESE pods .