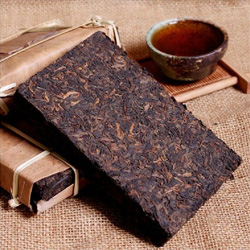 Pu'Er Tea (普洱茶 in simplified Chinese) takes its name from its town of origin in the Chinese province of Yunnan. Pu'Er is a post-fermented tea. Tea leaves are processed in different ways. The leaves undergo a first oxidation and after being pressed into a cake or ball, they go through a long period of ageing.
Pu'Er is characterised by its dark liquid and its frank notes evoking meaty flavours, with notes of leather, undergrowth, humid soil and bark. This tea in low in theine and can be drunk throughout the day. The Pu'Er improves with time and is at its best after 5 years of fermentation.
Pu'Er is beneficial for the body, it detoxs, helps digestion and weight loss, lowers cholestrol and is the perfect remedy for relaxing after a hard day ;).
Discover our large range of natural or flavoured Pu'Er teas on Maxicoffee.com!