Prolait, milk powder
Prolait is part of ProntoFoods Spa, a food & beverages company based in Italy.
The brand is a leader on the market for products specialised in automatic vending machines . Prolait was created in 1963 and exports to over 40 countries around the world. Discover the Prolait range on MaxiCoffee.com .
Prolait | Milk and Sugar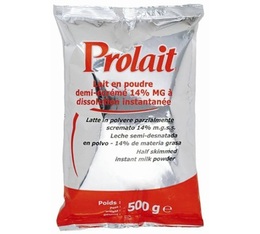 For automatic vending machines only
500g pack
Gluten-free
Half-skimmed powdered milk
In stock, dispatched within 48h
Product(s) 1 to 1 / 1 (in total)