200 Mini Cookies with nougatine and chocolate chips, delicious cookies offered by Monbana
Monbana - 200 Mini cookies


These Mini Cookies are small cakes with chocolate chips: a perfect way to accompany your espresso.
Ingredients :
wheat flour (*), sugar (*), chocolate chips 16% (sugar, cocoa paste, cocoa butter,
emulsifier: lecithin), vegetable fat (sunflower), nougatine 5% (sugar, almond, hazelnut), whole eggs
whole eggs (*), wheat starch, skimmed milk powder (*), raising agent: ammonium carbonates, salt.
Possible traces of soya, peanut and nuts.
Possible traces of: peanuts, soya, other nuts.
200 mini cookies (5g x 200)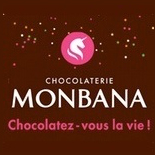 Monbana
Monbana is a family business which has been operating since 1934.
Over three generations, the company has been able to grow and develop while maintaining their spirit of "craftsmanship".
Thanks to its two production sites in France and its own plantations,
Monbana
showcases its love for chocolate through its drinks, cakes and chocolate bars.
Maxicoffee Bestsellers Rank
| Monbana - 200 Mini cookies | |
| --- | --- |
| Type of chocolate | Dark chocolate |
| Type of product | Biscuits |
| Made in France | Made in France |
| Packaging | By 1 |
| Weight | 1000 g |
| EAN : | 3474341101257 |