Maxwell House coffee
Home
Maxwell House coffee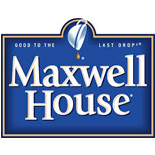 Maxwell House was created in Tennessee in 1982 as an exclusive blend for the Maxwell House hotel. This famous brand of instant coffee launched in France in 1969.
Today, it is an international brand in its own right and was the first brand of instant coffee in many European countries. Its slogan "good to the last drop" delivers a quality promise .
Easy and quick to prepare , all you have to do is add a teaspoon of Maxwell House instant coffee to hot water! This brand doesn't stop at instant coffee , they also offer tasty flavoured cappuccino . They will appeal to both young and old. Maxwell House promotes the good life, a positive attitude and good sense of humour with every cup of coffee !
Discover our range of Tassimo pods and Maxwell House instant coffee on MaxiCoffee.com .