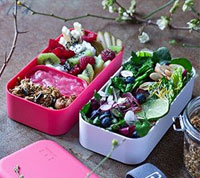 Our team of experts has selected the best lunchboxes and food flasks  around so you can take your food with you wherever you go.
Browse our wide range of lunchboxes, whether you need one that is insulated , small , big...  We also have lovely Bento boxes and Thermos food flasks.
Save money by preparing your meals in advance and taking them to school, work, on long journeys etc...
Discover items from popular brands such as  Thermos , MonBento , Qwetch , Aladdin, Emsa   ... 
We also have accessories to go with your lunchbox : cutlery sets , sauce containers , pouches etc...