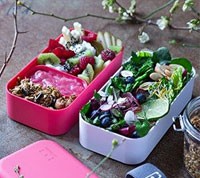 Our selection of Lunch boxes
At mealtime, we like to feel as well equipped as we do at home. MaxiCoffee has the right insulated lunch box for you.
Do you want to have a family picnic with your lunch bags, a complete meal at work or a snack box for your child? Discover many brands at the best price and in several sizes . You can opt for a Bento lunch box , made in France, or the famous Thermos , but either way you'll be able to fit in several types of food. We also have other insulated containers in our catalogue .
Lunchboxes & food flasks coming back in stock soon
Product(s) 1 to 22 / 22 (in total)
You are not at home and you want to have your meal easily and anywhere? Then choose a lunch box! Indeed, the lunch box is a food container that will allow you to transport your food more easily.
Usually used at work or at school, you can also use your lunch box during a picnic or a walk. We even offer sets with cutlery, bottles and other items...
When choosing a box, it is essential to know whether or not you have a place to heat your box. If you don't have a microwave, you can opt for a heated or insulated lunch box.
Insulated Lunch Box
The isothermal lunch box is certainly the most used box. It allows you to keep the meal you have prepared warm, ideally in the morning so that it stays warm.
They are perfectly suited if you are looking for a practical solution to take your food with you, for adults as well as for children.
There are many different sizes, formats, designs and colours available. From lunch boxes with insulating covers, to shoulder coolers, to insulated lunch bags, there are many ways to take your lunches away with ease and style!
Children's lunch boxes
Children can now also eat wherever they want thanks to lunch boxes. They have unique designs and different compartments, ideal for your little eaters! School, gym, outdoors, you decide.
Discover our different brands of lunch boxes:
- Bento Lunch Box
- Thermos Lunch Box
- Bodum
- Aladdin
- Qwetch
- Kambukka
MonBento Lunch Box
A French brand, Monbento now offers a complete range of nomadic solutions: from MB Original bento boxes to MB Positive reusable bottles, as well as accessories (MB Pocket cutlery, MB Pochette bags, etc.) and MB Gram snack boxes, specially designed for the little ones. It is 100% made in France! Indeed, it is entirely made with passion in the heart of the Auvergne-Rhône-Alpes region.
Thermos Lunch Box
Thermos offers you isothermal bottles, isothermal mugs, jugs and even isothermal lunch boxes where practicality is always a priority (push-button, non-drip system). Thermos is a registered trademark and is recognised as a specialist in the supply of isothermal bottles and mugs.
Kambukka Lunch Box
Kambukka creates reusable thermos flasks with high quality materials and a strong focus on ease of use combined with a trendy design. The universal 3-in-1 caps and Switch lid of Kambukka's reusable bottles use Snapclean® technology for perfect and easy cleaning.
MaxiCoffee offers a wide range of lunch boxes to find the perfect lunch box for your daily life. From Made in France, for you or your children, compatible with the microwave or a box with a unique design, you are bound to find what you are looking for!
Different models exist and in particular with several compartments in order to separate the different foods.
Dishwasher and microwave safe, with or without carrying handles, 100% airtight, keeps food hot or cold, it's all here - look no further.
In addition to being stylish and trendy, they are part of a zero waste approach. Reusable, they allow you to do away with disposable packaging once and for all.
And you are perfectly ready to eat your economical and responsible meal boxes outside! Discover on MaxiCoffee all our lunch boxes guaranteed without BPA and some of them with free delivery!