This Kuvings citrus squeezer attachment is suitable for B6000, B8000, C7000 and E8000 cold press juicers only!
Kuvings Citrus Squeezer Attachment Compatible with B9400/B9700/C9500
Available to extract all citrus fruits
– Cone helps extract any size of citrus(lemon, orange, large grapefruit and etc.)
Easy to extract a lot of juice
– Available to extract 800ml juice by once cutting in half without washing citrus fruits
Slow squeeze extraction system
– Minimizes destruction of nutrients by using your Kuvings Whole Slow Juicer(50RPM-60RPM)
Easy to store juice in the fridge
– Covered drum provides to store juice in the fridge very easily
Easy to clean
– Simply clean by the running water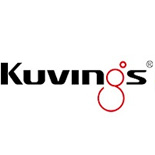 Kuvings
Kuvings is the world leader for juice extractors. Since 1978, the company has developed more than 20 types of different products centred around healthy eating. It also develops kitchen utensils such as ice cream machines, hand mixers, etc. Kuvings products are renowned for their manufacturing quality, efficiency and reliability.
Maxicoffee Bestsellers Rank
| Kuvings Citrus Squeezer Attachment Compatible with B9400/B9700/C9500 | |
| --- | --- |
| Dimensions (WxDxH) | 159 x 182 x 194 mm |
| Weight | 0.64 Kg |
| EAN : | 8809039108433 |