Knockboxes & knock out drawers

The Knock Box (also called a coffee knock out drawer or grounds container) is an essential, highly useful tool to get rid of the used coffee grounds once you have made your espresso.
This hygienic, practical accessory comes in all shapes and sizes. You will find knockboxes to place on your counter, drawers with a shot bar and even built-in ones. There is no doubt these stylish objects will become your espresso machine's or percolator's best friend!
Find on MaxiCoffee a great range of knockboxes.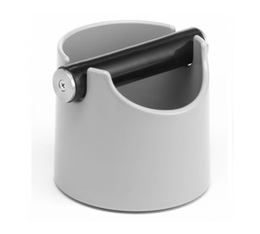 This basic grey knockbox by Concept Art is made from hard plastic. Simple to use and easy to clean, with great stability and sturdiness.
A compact, elegant knockbox (box for used coffee grounds) in black wooden finish - Dimensions: Width: 14cm x Depth: 15cm x Height: 15cm
Product(s) 1 to 2 / 2 (in total)