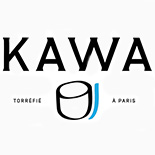 Kawa is a Parisian roaster of specialty coffees, co-created by Alexis Gagnaire, Q arabica grader and 2nd in the French roasting championships. 
The Kawa team selects from the best coffees in the world. Their obsession with detail is particularly evident in the experimental coffees. By working hand in hand with renowned coffee growers, Kawa shows the importance of fermentation in coffee.
Today, Kawa works with coffee shops and companies in Paris and all over Europe, and their reputation even extends beyond the European borders. They are definitely part of this generation of third-wave roasters who want to work with a product that comes from a sustainable and traceable agriculture.