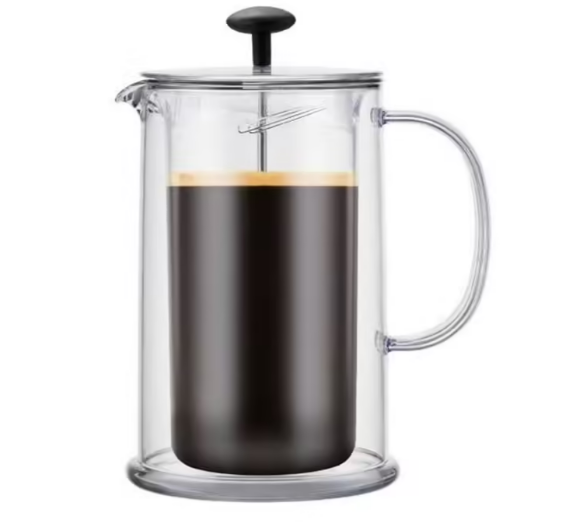 Our selection of insulated cafetieres
Revolutionize your coffee experience with our state-of-the-art  insulated cafetieres .
Embrace the art of coffee-making with this sleek and innovative design, crafted to keep your coffee piping hot for hours. Whether you're a coffee connoisseur or a casual sipper, our thermal cafetieres promise to elevate your daily caffeine ritual. Its double-walled, stainless steel build ensures durability and insulation, while the ergonomic handle and easy-pour spout provide a seamless pour every time. Discover our range of cafetieres .
Product(s) 1 to 4 / 4 (in total)
Welcome to MaxiCoffee , your ultimate destination for finding the perfect insulated cafetiere to elevate your coffee experience. If you're a true coffee lover who enjoys freshly brewed coffee that stays hot for longer, a thermal cafetiere is an essential addition to your kitchen arsenal.
What is an Insulated Cafetiere?
An insulated cafetiere, also known as a coffee press or French press, is a coffee maker designed to brew delicious coffee by steeping ground coffee beans in hot water. What sets it apart from regular cafetieres is its unique double-wall construction. Typically made of stainless steel or glass, the double-wall design provides exceptional insulation to keep your coffee at the perfect temperature for an extended period.
What are the Different Types of Insulated Cafetieres?
At MaxiCoffee, we offer a diverse range of thermal cafetieres to suit your preferences and brewing style. Our selection includes:
1. Stainless Steel Insulated Cafetieres:
Stainless steel cafetieres are a popular choice for their durability and excellent heat retention properties. They not only keep your coffee hotter for longer but also add a touch of elegance to your coffee-making process.
2. Glass Insulated Cafetieres:
Glass cafetieres are favored for their sleek design, allowing you to witness the coffee brewing process. The double-wall glass construction keeps your coffee insulated while providing a visually appealing brewing experience.
3. Double-Wall Insulated Cafetieres:
Double-wall insulated cafetieres, available in various materials, offer superior heat retention without transferring heat to the exterior. They ensure your coffee stays hot, while the outer surface remains cool to the touch.
At MaxiCoffee, we understand the passion of coffee lovers, and that's why we take great pride in curating a wide range of top-quality insulated cafetieres. We believe in delivering the best coffee-making experience right to your kitchen. Here's why you should choose an insulated cafetiere from our collection:
Why Choose an Insulated Cafetiere?
Discover the exceptional benefits of our insulated cafetieres:
Uncompromising Freshness: With our insulated cafetieres, you'll experience the true essence of freshly brewed coffee. The airtight design and double-wall insulation lock in the coffee's aroma and flavors, giving you a cup that's unmatched in taste.
Hotter for Longer: Bid farewell to lukewarm coffee. Our insulated cafetieres keep your coffee at the perfect temperature for an extended period, so you can savor every sip, even if you like to take your time.
Easy to Use: Operating an insulated cafetiere is a breeze. Whether you're a seasoned barista or a coffee novice, our coffee makers are designed for effortless brewing, making your morning routine more enjoyable.
Dishwasher Safe: We understand the importance of convenience in your busy life. That's why many of our insulated cafetieres are dishwasher safe, ensuring hassle-free cleaning after your coffee ritual.
At MaxiCoffee, we take pride in offering insulated cafetieres that not only elevate your coffee experience but also make your daily coffee rituals a pleasure. From uncompromising freshness to the convenience of dishwasher-safe designs, our cafetieres are crafted with the utmost attention to detail to cater to all your coffee needs. Indulge in the luxury of perfectly brewed coffee, hotter for longer, and embrace the joy of every sip. Experience the MaxiCoffee difference today and elevate your coffee moments to new heights.
Key Features of Insulated Cafetiere
Our insulated cafetieres come packed with features that will revolutionize your coffee-making experience: The first standout feature is the Mesh Filter, intelligently integrated into our cafetieres. This innovative filter ensures that your coffee is pure and free from any unwanted grounds or sediment. By allowing the natural oils and flavors to pass through, it enriches your coffee experience, delivering a cup of coffee that is bursting with aromatic goodness. Next up, we take pride in our Stainless Steel Construction. Not only do our stainless steel insulated cafetieres exude a sleek and modern design, but they are also built to withstand the test of time. Count on years of reliable service, and indulge in freshly brewed coffee whenever you desire. Our cafetieres also feature Double-Wall Insulation, a remarkable technology that acts as a protective barrier against external temperatures. With this ingenious design, your coffee remains at the optimal temperature, all while keeping the outer surface cool to the touch. Say goodbye to burnt hands and hello to blissful coffee moments. Last but not least, our insulated cafetieres boast incredible Versatility. They are not limited to a single type of coffee; rather, they cater to a wide range of brewing options. Whether you prefer finely ground coffee, coarser blends, coffee beans, or even loose-leaf tea, our cafetieres have got you covered. Embrace the variety and explore new beverage options to suit your changing moods and tastes. With these exceptional features, our insulated cafetieres are designed to enhance your coffee ritual. Experience coffee brewing at its finest, as we combine innovation, durability, and convenience into one exquisite package. Say hello to the perfect cup of coffee, crafted to your exact preferences.
Step-by-Step Guide to Using an Insulated Cafetiere
Using an insulated cafetiere is quick and straightforward. Follow these simple steps to indulge in the perfect cup of coffee:
Step 1: Measure
Add coarsely ground coffee beans to the insulated cafetiere. A general rule is one tablespoon of coffee per 4 ounces of water, but you can adjust according to your taste preferences.
Step 2: Heat Water
Boil water to the desired temperature. For optimal extraction, aim for water just below boiling point, around 200°F (93°C).
Step 3: Brew
Pour the hot water over the coffee grounds in the cafetiere and give it a gentle stir. Place the lid on the cafetiere with the plunger in the up position.
Step 4: Steep
Allow the coffee to steep for about 4 minutes. Adjust the steeping time based on your preferred strength.
Step 5: Press
After the desired steeping time, slowly press the plunger down, separating the coffee grounds from the liquid.
Step 6: Pour and Enjoy
Pour the freshly brewed coffee into your favorite mug, sit back, and savor the delightful flavors.
Whether you're new to coffee-making or a seasoned enthusiast, our insulated cafetieres will undoubtedly elevate your coffee experience. Experience the joy of a perfectly brewed cup of coffee that stays hotter for longer. Choose from our premium selection and start your journey to coffee bliss today!