Insulated bottles & flasks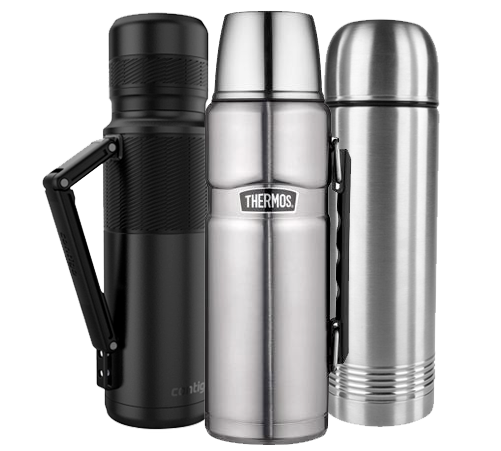 Our selection of insulated bottles
Whether you're going to work, travelling or simply following you everywhere, the isothermal bottle is the ideal product for storing your drinks
Before being an eco-citizen gesture, it is above all the comfort of being able to enjoy your drink anywhere , whether it is hot or cold. An important feature, that it is 100% airtight , we have selected a wide range of long-lasting insulated bottles guaranteed without BPA . We recommend our stainless steel insulated bottles to keep your hot or cold drinks for up to 24 hours . Find all our insulated containers on MaxiCoffee
Have you ever wondered which is the best isothermal bottle? There is a wide range of brands, sizes, components, etc... it's hard to choose!
The style of the bottle is important, I grant you! But, the most important thing is that it meets your needs whether it is by the capacity, the capacity to keep the temperature of your drink, the design and the ease of maintenance.
1L Insulated Bottle
If you're wondering what capacity to choose, just ask yourself what you're going to use this bottle for :) For the office, you can choose a customisable bottle, to show off to your colleagues and avoid exchanges.
For the more sporty among us, if your bottle is going to follow you all day long, it is better to choose a stainless steel bottle, more solid and the minimum capacity to choose is a one litre isothermal bottle, or even more.
500mL insulated bottle
At work, a plastic or glass bottle with a small capacity will be sufficient, knowing that a water point is normally easily accessible, so I recommend a capacity of 500 ml.
Stainless steel insulated bottle
First tip, if you want a bottle that keeps the temperature of your hot drinks and your cold drinks, I invite you to go for a double-walled stainless steel bottle, which with its inner wall will protect your drink from the outside temperature and therefore from the change of temperature.
This system will keep your drinks warm for an average of 12 hours and cold for 24 hours.
Insulated bottle by brand
On MaxiCoffee, we offer many brands in order to present you the widest choice of isothermal bottle and thus satisfy all the needs.
Qwetch insulated bottle
Qwetch bottles are the most famous for their reliability and their wide choice of colours and sizes. Indulge yourself by choosing from a variety of bottle sizes and colours.
Thermos Insulated Bottle
Thermos bottles are the reference in their category: they are the stars of the anti-leakage market! We have selected different models: various sizes and formats, a wide range of colours, bottles with handles, etc. Most of them are made of stainless steel.
This is one of the most frequently asked questions that we have to answer. Indeed, it is possible to put an insulated bottle in the refrigerator in order to cool the stainless steel. However, the drink in the bottle will not be cooled, it will just be kept cooler for longer.
The fridge will not damage your bottle, you can put it in frequently without any issues.
Today, you will find more and more bottles that are dishwasher safe. However, insulated bottles, like reusable bottles, are easy to clean by hand. If you are not using it for sweet drinks, a simple rinse with clean water is sufficient.
If you are a smoothie or fruit juice enthusiast who takes a quick drink in the morning due to lack of time, it is advisable to clean the bottle with soapy water after each use and every 10 days to clean it more thoroughly with hot water and a spoonful of bicarbonate of soda or Puly Caff for example