Ground Coffee for French Press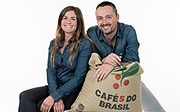 Our selection of ground coffee for French Press
Meet Camille & Lionel,  coffee expert and Cafés Lugat's roaster
MaxiCoffee offers you freshly roasted ground coffee by the Cafés Lugat's artisan roasters team. These grand cru coffees come from exceptional regions. They are  roasted artisanally and freshly ground by us.
This coffee grind is made for your French Press (also known as Cafetière)  so you will get the best results !  Freshness and quality guaranteed!
Read our tips about  making a great coffee with a French Press !
Ground Coffee for French Press coming back in stock soon
Product(s) 1 to 12 / 12 (in total)