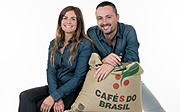 Camille & Lionel, coffee expert & Cafés Lugat roaster
MaxiCoffee selects green coffees beans directly imported from their plantation of origin where they're grown with care in optimal weather and environmental conditions. In order to offer you impeccable quality beans which meet your expectations, we take care to scrupulously respect our previously established commitments, focused on four issues: origin, quality, packaging and freshness of each green bean.
Important: Green coffee should be roasted before using in a bean-to-cup machine or grinder. Otherwise, your machine may be damaged.
Product(s) 1 to 10 / 10 (in total)