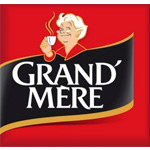 Grand' Mère is a brand of coffee close to the French. It was created in 1954 in Roubaix by René Monnier and his wife Lucette. 
The brand has evolved at the same time as the business: it started with ground coffee and now also offers Senseo soft pads, Nespresso-compatible capsules and Tassimo T-discs.
Head to MaxiCoffee for our full range of Grand Mère coffees!