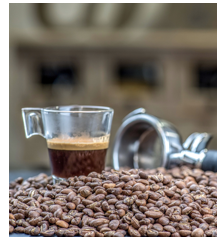 How to choose the right glass? A true art of the table.
Coffee mugs are not just a gift to be given when we are out of ideas. They are much more than that. That's why, at MaxiCoffee, we have selected the best water, coffee, espresso, cappuccino or tea glasses to offer you a wide choice of single and double wall glasses, which keep the liquid hot or cold, while insulating your hands from the heat.
A shared pleasure that will seduce design lovers for a quality coffee break and a real highlight of their drink! Find our entire range of accessories to complete your table.
There are so many types of lenses on offer, so many shapes available, that it is sometimes difficult to make a choice. MaxiCoffee is here to help you!
Water glasses
Water glasses, our everyday essentials , have become an icon of tableware. There are various options when it comes to buying one. Our website offers a wide range of original containers that will embellish your tables by transforming into designer water glasses.
Coffee glasses
Which coffee glasses should you choose among the many shapes, materials and colours? Here are some tips to help you choose the best coffee glass for your favourite beverage.
Espresso glasses
If, like many people, espresso has become your favourite hot drink, the choice of container is fundamental to enhancing your espresso and making it even tastier.
A double-walled glass will enhance the extraction and crema of your drink by protecting it from the heat.
Porcelain will keep your drink hotter for longer, while enamelled metal cups will bring back the charm of the past.
Find all espresso glasses on MaxiCoffee.com
Cappuccino glasses
Comforting and tasty drink, delicately covered with a creamy foam, it takes us on a little cloud of milk. Its unique look must be seen by the whole world, that's why the double-walled glasses are perfectly aligned with this drink and will keep its warmth while protecting your hand from the glass . Generally, we opt for a capacity of 25 to 35 cl in order to have a nice thickness of foam.
Find all the cappuccino glasses selected by our experts.
Tea and infusion glasses
Although coffee has become a big part of our lives, many of us are part of the tea team. To enjoy it in style, there are many models available . Whether single or double walled, coloured or clear, there is something for everyone! Enjoy your tea in bulk or in bags thanks to our beautiful tea glasses that will keep your drink warm for a long time .
Discover our selection of tea glasses selected by our experts.
Double Wall Glasses
Very popular for their aesthetic appeal, double-walled glasses are invaluable for keeping your favourite drink warm without burning your hands. For cold drinks, it will be your ally by not forming any condensation on the surface of the glass or water rings on the bottom.
Enjoy a real moment of gustatory and visual pleasure with our large choice of products .
Bodum glasses
Founded in 1944, Bodum glassware has been sold in 55 countries around the world with a sense of responsibility. The brand is committed to the environment and has set a short-term goal of reducing CO2 emissions.
Renowned for its innovation , quality and unparalleled functionality, Bodum glassware continues to delight in every way. With its sleek, sober design , it has satisfied both young and old by keeping drinks hot and cold for longer thanks to its double insulation.
Did you know that all Bodum double wall glasses are mouth-blown?
Duralex glasses
Duralex... the sweet brand of our childhood. Who hasn't drunk from a Duralex glass at least once in their life? Remember your tender school years, especially at canteen time?
It is not by chance that they have become, over time, an icon of French tableware . Renowned for their robustness thanks to their tempered glass, they are resistant to thermal shocks and falls .
With their vintage look and unique appearance, they are available in several capacities from 6 to 50 cl to suit all your desires.
Pylano glasses
The Pylano brand offers a wide range of trendy products to meet all your desires. Coffee or tea lovers, in search of sharing and conviviality, Pylano glasses will seduce you thanks to their refined designs and their ease of use.
You can enjoy your espressos or lattes in these transparent glasses with a cylindrical shape that allows you to visually appreciate the level of crema and the different levels of your drinks .
Not to mention that these Pylano products are made of borosilicate glass which is light, thin and highly resistant to thermal shock.
MaxiCoffee quality at the heart of our business
At MaxiCoffee, we are passionate about our work, right down to the choice of glass. That's why we want to give you a unique advantage: to excel in the art of the table. Our goal is to guide you in choosing the right glass to ensure that you always get a great tasting coffee.
The coffee experience does not stop at the purchase of a machine or the choice of a capsule, in fact its container is no less important to ensure a fabulous moment. Our team shares all the best practices and tips on numerous articles, blogs and videos!
Buy cheap glasses on MaxiCoffee
MaxiCoffee is committed to offering a wide range of glasses from Bodum, Duralex and Pylano , at affordable prices that will satisfy all hot and cold drinkers regardless of their means. You will find a wide selection of products, because at MaxiCoffee, good coffee should be within everyone's reach.
Exclusive promotions are regularly offered by our experts throughout the year, but also on the much awaited events such as: Black Friday, winter sales, summer sales, French Days and much more!