Special offer - 15% OFF
on
Espresso Cap capsules
with the voucher code :
UKESP21
- Until July 28th - 1 use per customer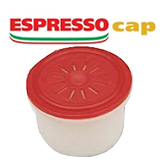 Espresso Cap designs and develops capsule machines in Italy. They have their own range of capsules made exclusively for their Espresso Cap systems.
If you own an Espresso Cap machine, you will find a wide range of compatible capsules on MaxiCoffee like the Espresso Cap bestseller, Gran Aroma, the Cioccolata tasty hot chocolate drink and even tea.
Espresso Cap capsules are also offered in Maxi packs of 240 capsules at small prices! 
Espresso Cap | Espresso Cap capsules
Product(s) 1 to 7 / 7 (in total)
Espresso Cap capsules are only compatible with Espresso Cap machines. Discover the large selection of Espresso Cap capsules: Gran Aroma, 100% Arabica as well as tasty drinks and tea.