Espresso & Brewing Lab
Home
Espresso & Brewing Lab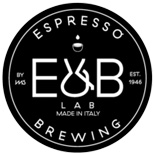 Espresso & Brewing Lab is IMS' creative laboratory from Italy where ideas and new products are tested.
Their products are described as "Ultrafine coffee tools crafted in Italy". Everything is designed and manufactured with an artisanal approach and real attention to details and materials.
Espresso & Brewing Lab makes high quality permanent filters for Aeropress and Chemex as well as 58mm filter baskets, jugs etc... 
Discover their range of products on MaxiCoffee !