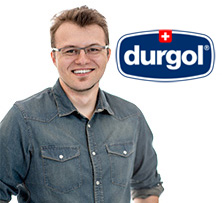 Our Durgol cleaning products
Since 1951, descalers from the Durgol brand have been made in Switzerland by During SA
Durgol offers two main descalers in their range: durgol Swiss Espresso especially designed for espresso machines and durgol Express, the leading descaler in Switzerland and Austria since 1968.
Durgol descalers are the most efficient descalers on the market. They eliminate limescale from your espresso machine , up to 10x faster than a classic descaler.