Cream whippers
Home
Cream whippers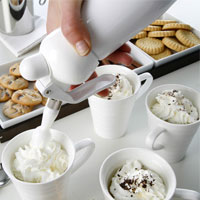 Which whipping siphon to choose?
The whipped cream siphon is the ideal accessory for preparing plain or flavoured whipped cream.
It is necessary to give a final touch to your desserts or iced drinks. We have selected the leading isi® brand (because whipped cream is first and foremost a matter for specialists) for culinary siphons in capacities adapted to all your needs (1 L, 50 cl and 25 cl). Are you a professional? Cook? A novice barista? ISI is the brand for you. Add liquid cream, a touch of icing sugar. And don't forget the other accessories like the gas cartridge!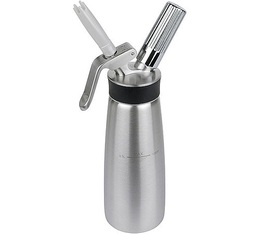 NSF-certified
Used by professionals
For cold preparations
500ml capacity
FREE delivery
In stock, dispatched within 48h
Smaller of the range: 250ml capacity
For warm or cold sauces, desserts...
High quality stainless steel
NSF-certified
FREE delivery
In stock, dispatched within 48h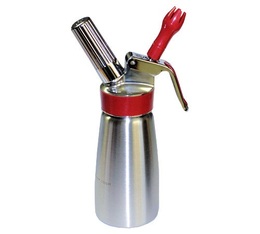 500ml capacity
For warm or cold sauces, desserts...
High quality stainless steel
NSF-certified
FREE delivery
In stock, dispatched within 48h
Product(s) 1 to 3 / 3 (in total)
Discover our selection of iSi siphons. They are ideal for creating delicious sweet and savoury mousses to enhance your hot and cold recipes. Prepare whipped cream, fruit or vegetable mousses.
The body of the siphon is made of stainless steel, which also makes the siphons very robust. The brand offers various models with different functions and features.
The Gourmet Whip offers all the functions of a classic siphon to create and serve with precision. It can be stored either in a water bath or in the refrigerator. The Thermo Whip is very similar to the Gourmet Whip, but has an additional function: an insulating wall. Your preparation will be kept at the desired temperature for several hours, so you don't have to put it in hot or cold water. All iSi models are dishwasher safe for easy and convenient maintenance.
CO2 capsules for whipped cream maker
Are you looking for capsules to go with your whipped cream maker? Opt for the iSi brand cartridges. They will help you to create whipped cream with a perfect texture and hold, as well as mousses, creams, sauces and soups. They contain pure carbon dioxide.
The capsules are single-use: once used to make between 50 cl and 1 L of liquid, they cannot be refilled. They are made of 100% recyclable steel, which allows you to reduce your environmental impact.
Siphon sockets for Chantilly
iSi has an eye for detail: the brand offers all the accessories you need to create beautiful desserts and mousses. You will find a set of stainless steel sockets for kitchen siphon.
The nozzles allow you to prepare your cold dishes to your liking: measure the quantity and even create pretty decorations thanks to their precision. There are various sizes and shapes to adapt the service to the desired dish. They are compatible with the Gourmet Whip and Thermo Whip siphons of the same brand.
Injection needles for whipping siphons
Do you want to go further in the preparation of exceptional dishes and desserts? The iSi injection needles allow you to explore new horizons and create unique dishes. Use the needles to garnish puffs, let your creativity shine through and decorate plates in a delicate way, prick and marinate food... The possibilities are endless! The set includes 4 needles with different lengths and diameters. They are delivered with their protective covers.
All of the above accessories are dishwasher safe for easy maintenance and cleaning of your utensils.
To discover even more products, take a look at our barista accessories category .