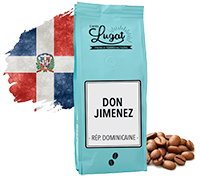 Escape and discover exceptional coffees from the Caribbean region.
MaxiCoffee has selected the best coffees from Jamaica, Cuba or the Dominican Republic. In particular, discover Cafés Lugat for extremely fresh and artisanally roasted coffees.
Choose between our Caribbean coffee beans, Caribbean ground coffees or our Caribean coffee capsules compatible with Nespresso.