Café Chapuis
Home
Café Chapuis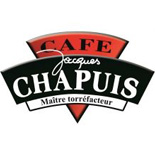 Café Chapuis was created in 1945 at Saint Etienne, France, by Pierre and Rose Chapuis. 
The Chapuis group is now a partnership between three regional coffee roasters who share their passion for tradition and quality workmanship.
Their coffees come from the best plantations and their beans are slowly roasted to the core until they are similar in colour to a Capuchin monk's robe.
Don't wait and discover the excellent range of Chapuis coffee beans on MaxiCoffee.