Brûlerie Caron
Home
Brûlerie Caron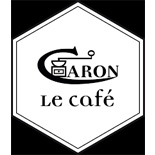 Brûlerie Caron is a coffee roastery based in Chatillon in France.
Sylvain Caron (named Best French Coffee-Roaster in 2011) has been touring coffee plantations all over the world since 1974, in search of the finest coffees.
Discover the signature coffee from Brûlerie Caron on MaxiCoffee : an excellent blend of 4 Arabica grand crus from Guatemala,Ethiopia, Nicaragua and Brazil.
The company also recycles coffee used by its distributors in an effort to be kinder to nature.