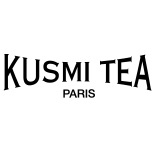 Our selection of Kusmi Tea infusions and teas
The story begins in 1867 when Pavel Kousmichoff founded the tea house in St.Petersburg.
Kusmi Tea became the favourite of the tsars. In 1917, fleeing the Russian revolution, the Kousmichoff family set up their workshops on avenue Niel, in Paris. Kusmi Tea know-how lies in the creation of new and original tastes thanks to natural aromas from the best fruits, flowers and spices .
For over 150 years, Kusmi Tea reinvent the tea brewing experience making it more amazing. The brand is well-known for the quality of their products . Creations and know-how are shared through 100 boutiques across the world . Discover a f ull range of wellness blends (green tean, mate, rooibos), historic and classic teas (Russian tea, Earl Grey), white tea, black tea and also herbal tea or infusions based on plants, fruits & spices.
Kusmi Tea | Organic Products
Kusmi Tea | Wholesale Tea
Product(s) 1 to 39 / 190 (in total)
Founded in 1867 , the Kusmi Tea brand was created in St Petersburg by Pavel Kousmichoff. Its name comes from the combination of the family name, Cha which means Tea in Chinese and then changed to Tea to make it more international. Their tea quickly became very popular for its blends that combine modernity and tradition.
The creation of their emblematic recipe like the bouquet of flowers in 1880 or for the anniversary of the 900 years of the baptism of Russia with the recipe, the tea prince Wladimir. On a base of Earl Grey adds vanilla, spices and orange peel. The first shop in Paris was opened in 1917 after the revolution when the Kousmichoff family arrived. This mythical address, on Avenue Niel, is now a school, the Atelier K, which is now a training centre to learn all the subtleties of tea.
In 2003, the Orebi family bought the Kusmi Tea brand and took it international. He opened the first shop on the Champs Élysées in 2012. In 150 years, the company has become a must with 85 shops in 35 countries and more than 100 legendary recipes. All of this is made in Normandy by a team of 600 passionate people. All the teas are based on a blend of teas from all over the world.
From 2020 onwards, Kusmi Tea will offer a fully organic range . It took more than 10 years of work and selection, all teas and infusions are now labelled. They have succeeded in doing good with organic.
Kusmi Tea infustions and teas
The brand has been developing blends for more than 150 years that have a single purpose: to give pleasure and help you discover new flavours.
Earl Grey with a touch of lemon. This tea is named after the daughter of the Tsar II, a famous Russian family. There is a version with white tea for a touch of finesse.
Tsarevna tea is the must-have drink for the end of the year with its blend of citrus, ginger and spice, which is dressed up in a different style every year. Their range of herbal teas for relaxing throughout the day with Feel Zen or for a good night's sleep with Lovely Night . They offer so many flavours that a few lines will not be enough, the best is to let yourself be tempted.
They offer all their recipes in several forms, whether it be loose in their colourful metallic tins which allow the flavours of the recipes to be preserved. PLA muslin bags that contain no glue or staples. These bags will let the flavours of your tea come through in every cup. Moreover, they are compostable and industrially biodegradable, another gesture for the planet, Kusmi Tea is committed to it.
The Kusmi Tea detox range
The Kusmi Tea detox range includes several tasty recipes that make you want to take time for yourself. It is important to take care of oneself, and a detox cure contributes to this. It is advisable to do so in order to cleanse the body of the impurities accumulated by our daily lives.
The Detox infusion with a mixture of mate, green tea and lemon, a refreshing drink. The Blue Detox version which starts with the same base of mate and green tea with a touch of pineapple.
The BB Detox with its refined notes of grapefruit. You are bound to find a drink or drinks that will accompany you in taking care of yourself.
Kusmi Tea Gift Sets
To discover the entire Kusmi Tea range, there is nothing better than being able to taste many different teas thanks to the brand's boxes . For example, their 5 tins assortments such as the "green tea box" which includes tins of 20 to 25 grams of teas.
You will love to give it as a gift or to treat yourself to the subtleties of green tea. The Kusmi Tea brand also offers large boxes of 24 individually wrapped tea bags. This box offers 12 emblematic recipes, rediscover the flavours of mint tea, red fruit tea, etc... You will be able to find these recipes in larger quantities in their shop or on the MaxiCoffee website.
The Kusmi Tea Advent Calendar
For the past few years, the tea house Kusmi Tea has been spoiling us with a wonderful advent calendar . A mix of novelty, iconic recipes and accessories such as a measuring spoon or a tea filter.
This year, the theme of the Roaring Twenties has been highlighted on the 24 windows that make up the calendar with golden colours and art deco graphics. A real party! A calendar that is always a pleasure to give and that will have a small effect on your loved ones.
Discover a complete range made by connoisseurs and tea lovers . Let yourself be seduced by the Kusmi Tea range, you are bound to find your favourite blend.